Conservation of Resilient Biodiversity through Propagation, Dissemination and Education
Website updated 11/13/16
Please note: we've been dealing with a family crisis here the past month and the unexpected death of a friend,
my apologies if I have not responded to your emails in a timely manner, I will get back to you!
There's a slight delay with a few orders but most are on schedule.
Thank you for your understanding and support! 
LIMITED SPECIMEN SALE PLANTS LISTED AT THE BOTTOM OF THIS PAGE!
Greetings! A small family run business, Sacred Succulents was founded in 1997, borne from our love of plants and a calling to the sacred duty of their conservation through propagation, dissemination and education. While our initial focus was succulents and xerophytes, our travels and the necessity of species conservation has us propagating a diverse cornucopia of unusual and wonderful beneficial plants from remote and immediate regions of our fecund planet. We strive toward maximizing biodiversity in our gardens and offerings. Widespread dispersal of plants along with propagation on an individual level is one of the most viable means of helping protect wild populations while assuring the evolutionary expansion of these botanical wonders.
We all have the strange grace to live in this time of climatic change and massive biological extinction recognized to be greater than anything the biosphere has experienced in 65 million years. Plant extinctions have been estimated at a loss of nearly 2 species a day. Along with this extinction is the loss of our collective human heritage, as the cultures, languages, dreams and songs that were intimately woven to those species disappear with them. Amongst thousands of known food plants, the world's food supply relies on a scant dozen. We must do much more than save heirloom varieties and landraces of the major crops. We encourage you to relearn the forgotten indigenous foods and medicines of your region and of your lineage. Where habitat still exists, these are often disappearing from the fields and forests for lack of tending. Each and every one of us are co-creators of our ecosystems. Experiment with strange and rare edible plants, expand your palate. These are the seeds of true health and food security.
Whether you have a bright window in a city apartment, a suburban house with a yard, or access to acres of land, you can take part in the nurturing of endangered plants, propagate them and pass along the seeds, starts, attendant aspirations and ethnobotanical knowledge to friends. Realize the power we each have to assist our vanishing flora, acting as conservationists through a simple and joyful role as gardeners, horticulturalists, admirers of plants. These small endeavors help to put us in resonance with the viridian heartbeat of the biosphere, a reminder of earthly things like soil, weather and mooncycles in a world increasingly adrift in the navel gaze of cyberspace. Attention to seasonal gifts such as Spring flowers can refresh our wonder in the delicate fortitude of life in all its myriad forms. There is so much life and potential to celebrate all around us!
Our coveted paper catalog is beautifully illustrated and full of ethnobotanical and horticultural information including detailed seed germination and propagation techniques. Some of what we offer:
Cacti– endangered Ariocarpus, Aztekium, Pelecyphora, Turbinicarpus species… we have one of the most diverse selections of Trichocereus species including new hybrids and mutant San Pedros. We are involved with ongoing studies of this genus in South America: mapping distribution, ecology, ethnobotany and taxonomy through genetic analysis to aid preservation.
Other Succulents & Xerophytes– Aloe, rare and hardy Agave & Yucca, Baobabs & caudiciforms, aromatic Bursera (Copal, Palo Santo), Commiphora (Myrrh, Guggul) & Boswellia species (Frankincense), rare Echeveria, a large selection of Ephedra species, Hoodia gordonii, medicinal Peperomia, uncommon Puya, obscure Rhodiola & Sedum species, Sceletium tortuosum…
Unusual & Rare Perennial Edible Plants– Gaultheria, Vaccinium, Amelanchier, Lycium, Elaeagnus, Rubus, Ribes, Ugni, Agapetes … Chufa, Capers, Ramps & rare Alliums, Rampion, Breadroot, Vigna subterranea & edible bulbs, tubers, vines, fruit trees and more for adventurous gardeners, permaculturalists, and food forest fanatics.
Obscure Medicinals– Codonopsis species, Gold Root, Green tea, Honeybush & Rooibos, Maralroot, Mandrake, Sea Buckthorn, heirloom Tobacco, Yaupon, Yerba Mate, Dioscorea, Dan Shen & other Salvia species, Shatavari, Umckaloaba, Silene capensis…
Rare & Endangered Chilean Endemics– Latua pubiflora, Gomortega keule, Desfontainia spinosa, Ugni, Coriaria, Chilean Macnut, Fabiana, Macqui Berry, Bell Flower, Nothofagus…and from the Juan Fernandez Archipelago- Dendroseris, Ochagavia elegans, Chenopodium sanctae-clarae, Nicotiana cordifolia, and more…
 Andean Ethnobotanicals– From our annual expeditions. Ancient medicinals and species from one of the most imperiled forest ecosystems on the planet- Polylepis, Buddleja, Hesperomeles, Alnus, Escallonia, Erythrina, Anadenanthera, Puya raimondii, Calceolaria, Macleania, Cavendishia, Pernettya, Bomarea, Cypella, Phaedranassa, Stenomesson, etc. Traditional Andean food plants- Caigua, Kaniwa & Quinoa, Tarwi, Aguaymanto, Naranjilla, Tamarillo, Sauco Berries, Ulupica Pepper, Lacayote squash, Congona, Jaltomata, wild Tomatoes, Passiflora and a large selection of heirloom tubers- Ajipa, Oca, Ulluco, Achira, Mashua, Mauka, Arracacha, Yacon, Maca.
 Plants of California – a focus on forgotten feral foods like Brodiaea, Calochortus, Triteleia, Lilium, Yampah, Chia, plus medicinals and endemic rarities.
 A diversity of wild crafted seed from South Africa, China, Himalayas & other remote regions… rock garden & alpine miniatures…and much more!
Books– Hard to find titles on ecological horticulture and ethnobotany.
Please send $2 ($4 international) to receive our fully illustrated, highly informative catalog and additional supplements.
Seed deliveries anywhere in the world.
Sacred Succulents, PO Box 781, Sebastopol, CA 95473 USA
Email: sacredsucculents@hushmail.com
Please note: We do not have a mobile device and often only check our emails in the morning Monday through Friday,
so if you don't get an immediate response from us–do not fret! We will get back to you.
To receive our periodic (every 4-6 weeks) emails listing new plants & seeds, specials, news from our gardens, greenhouses & travels sign up at –
http://lists.sonic.net/ mailman/listinfo/ sacredsucculents
Rare Plant and Seed List
Available by subscription. This is where you will find first offerings of exciting new plants that we have in quantities too small to list in our main catalog. One of a kind specimens, rarities and introductions from our travels, and other plants and seeds from the far reaches of our wondrous fertile planet. Something unique for everyone! Cacti including uncommon Trichocereus and Ariocarpus hybrids and specimens. Succulents such as rare Bursera, Commiphora and Boswellia. Obscure medicinal herbs, unusual perennial foodcrops from around the world and selections from our Andean accessions. A fully descriptive list. A must for any serious plant collector, herbal horticulturalist and permaculture enthusiast.
4 issues $5 ($10 outside USA), 8 issues $8 ($16 outside USA)
Grafting Guide
Grafting of a slower growing species onto a faster growing stock increases plant growth significantly. It is a viable means of quickly producing mature specimens for seed production and vegetative propagation. This illustrated guide covers all aspects of grafting, from week old seedlings to mature specimens. Includes tricks we have learned over the years that help make this valuable conservation technique accessible and practical. Focuses mainly on Cactaceae but coverage is given to Euphorbiaceae, Apocynaceae and other succulent families. $9.00 postage paid USA, add $6 postage foreign
Public Domain Pledge
An important terms of business note to all our customers:
In order to be in line with our mission to support the preservation of botanical biodiversity, following the lead of J.L. Hudson Seeds and in recognition that the biodiversity of the Earth is the common heritage of all life, all of our seed and plant offerings are now Public Domain. This means that all plants and seeds are supplied solely under the following conditions: We expressly prohibit the use of any seeds or plants supplied by us, or their progeny, in any form of genetic engineering, breeding, or research which will result in any form of life patent, variety protection, trademarks, breeder's rights or any form of intellectual property applied to living things which would compromise the Public Domain status of the seeds, plants, their progeny and any genetic material therein. We expressly prohibit the transfer to any third party of any seeds, plants, their progeny or any portion of their genetic material without these prohibitions in place. Commercial propagation is encouraged, but in the unlikely event that large-scale commercial distribution is achieved, benefit-sharing along the path towards the source, in accordance with the spirit of the International Convention on Biological Diversity, will be undertaken. Thank you for your understanding and support!
We believe the biological diversity of the world is a common inheritance shared by all and the right to having a personal individual relationship with the myriad life forms of the planet is intrinsic to that. It is the very fibers that weave us.
((((((((( Plant seeds. Plant lots of seeds. Plant them without fear. Plant them with love. )))))))))
"We must look for help not so much to the stamen counters as to the plants themselves." – Luther Burbank
 "The greatest service which can be rendered any country is to add a useful plant to its culture" – Thomas Jefferson
---
Specimen Plant Sale
USA customers only. Most of these plants are one-of-a-kind and have been in our collection for many years. This is a one time offer for most of these plants–they will not be available again! If you are interested in purchasing a plant please email first to confirm availability- sacredsucculents@hushmail.com – please provide your full mailing address in the email.
Shipping and Handling for Specimen Plants
First class priority mail = $7.50 for the first plant $2 each additional plant. Express mail = Inquire for current costs
*Plants marked with a single asterisk are large, heavy and have special shipping charges = $15.00 for the first plant $2 each additional plant.
**Plants marked with double asterisk are extra large and/or heavy. We charge you the actual USPS postage cost plus an $6 handling fee on the total order. Please note: Shipping costs for these will be significant for folks in eastern states (for example a 36″ Trichocereus sent to the East Coast would be around $40+ shipping but less than half that for the West Coast). You may inquire the approximate shipping cost by emailing us your zipcode.
Shipping for Books & Products
To determine shipping costs, add up the number of lbs in parentheses ( ) that is listed with each item
Priority Mail- add $7.50 for the first lb, $2.25 for each additional lb
When ordered with plants just add $2.25 for each lb
Books only sent Media Mail – add $4 for the first lb, $0.75 for each additional lb
Please email us for international shipping costs for books/products; sacredsucculents@hushmail.com
California residents add 7.5% sales tax. Sonoma county residents 8.25%.
Cactaceae
Ariocarpus fissuratus v. lloydii
An incredible rare variety of the living rock cactus with smooth rounded tubercles, sometimes completely lacking a fissure. Tends to grow larger in width and height than the regular species. Very wooly center. Pink-purple flowers. Coahuila and Durango, Mexico. This fat specimen flowers for us every year.
4″+ plant $100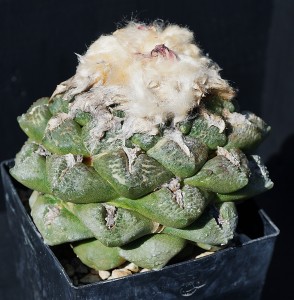 Ariocarpus fissuratus v. lloydii f. monstrosus Graft
A very weird plant, blobs of numerous miniature round fuzzy heads that turn pinkish-purple in bright light. This mutant is from a seedling we grafted in 1999. We have only offered this freak a few times. A truly unique plant. Grafted on Trichocereus pachanoi stock.
3″+ grafted plant with dozens of tiny heads $65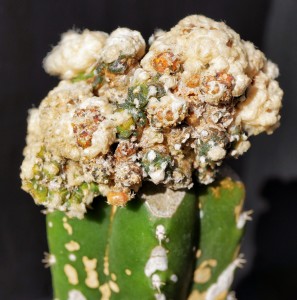 Ariocarpus retusus v. furfuraceus
An A. retusus form from northern Mexico with shorter, more rounded tubercles and larger fuzzy areoles. Large white flowers that turn to pink as they fade.
3.5″+ plant 15 years old $40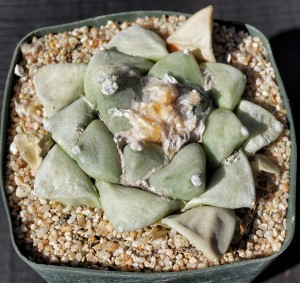 Tephrocactus articulatus
Segmented clusters of egg-shaped grayish stems. Very cool, large, flattened spines, reddish glochids. Pale pink blossoms. Argentina. Z8 if dry.
7″+ plant $14
Tephrocactus geometricus
Opuntia relative with mostly spineless gray-purple spherical stems to 3″+, stacked like a pile of diminutive soccer balls. Large pink flowers. Catamarca, Argentina. Said to be one of the most desirable cacti! Z8 if dry.
1.5″ plant, Clone A, nearly spineless with the exception of tiny glochids $22
Trichocereus bridgesii f. monstrosus Clone A "Achuma"
Virtually spineless. Smooth blue-green stems with 2–4 indistinct ribs. Occasionally produces large yellow spines up to 3″ long. Plants eventually form candelabra like stands. Individual stems can grow to be remarkably phallic and this clone is referred to as the "penis cactus."
30″+ cutting $60**
Trichocereus pachanoi f. cristata cl. A "Mutant San Pedro"
Unique mutant specimen.
17″ wide 12″ tall rooted plant with some old scarring from frost damage in 2013 – $40**
Trichocereus pachanoi f. monstrosus cl. A "Mutant San Pedro"
Monstrose San Pedro column with molten wax look.
32″ cutting with 3″ diameter stem $44**
Trichocereus peruvianus v. cuzcoensis (=Trichocereus cuzcoensis) "Hawaq'ollay"
An underappreciated spiny peruvianoid with glaucus-blue upright stems to 15′ + and gorgeous spines to 2.5″+. Inter-Andean valleys of Cusco Dept., Peru. Considered a "San Pedro" and utilized as medicine since antiquity. Sections of de-spined stems can still be found for sale at the outdoor Cusco market for use as a famous shampoo said to treat baldness, as a contraceptive and remedy for burns, headaches, fevers, swellings, flu. Specimens listed below. Z8a–9a
All of the following are flowering size specimens in 5 gallon pots unless noted otherwise.
***These are available for pick up-by appointment only- at our home in Occidental. Please email to reserve plants and arrange pick up.  sacredsucculents@hushmail.com
For those further away, we will consider shipping, but the plants will need to be cut into smaller sizes- email for shipping quotes.
A – one 60″ stem, one 54″ stem and one 36″+ stem. $120***
B – four 24–28″ stems. This clone has a larger number of spines per areole giving it a shaggy appearance. $86***
D- one 66″+ stem, leaning a little, small pup halfway, long spines. $64***
E- one 60″ stem, one 38″ stem and one 26″ stem, very long, stout spines $105***
F- 10 gallon pot. One 42″ stem, one 36″ stem, two 28″ stems, one 15″ stem + several pups. More slender clone with yellow spines. $88***
G- one 36″ stem, four 24–26″ stems, two 6–9″ stems. Nice uniform, yellowish spines. $115***
I- 10 gallon pot. One 36″ stem, one 30″ stem, two 12–16″ stumps with several pups, some scarring on stems. $45***
Trichocereus knuthianus (=Trichocereus peruvianus v. knuthianus, SS03 )
Graceful upright columns to 16′ or more. Dark green stems up to 6″ in diameter. Spines to 2″ long. White nocturnal flowers, edible fruit. A desirable rare and beautiful plant from northern Peru that is closely allied with T. peruvianus . Z9a
10 gallon pot, 18″ branched stump with one 36″ stem, another 36″ stem with 3 terminal pups, one 14″ stem and one 16″ stem. $100***
 ***Available for pick up-by appointment only- at our home in Occidental. Please email to reserve plants and arrange pick up.
Trichocereus tacaquirensis?
4–6″ thick dark-green stems to at least 10′ in height. 7–9 ribs with large felty areoles and numerous thick dark spines to 3″. White, night blooming flowers. An impressive cactus, very similar to T. taquimbalensis. Grows at 10,000', Tacaquira, Chuquisaca, Bolivia. Rooted cutting. Z9a
12″+ plant $25*
Trichocereus uyupampensis? BBG60.0450
Unique arborescent peruvianoid to 15'+. Olive green stems 3–4″ in diameter and 5–9 ribs. Spines 1–3″ long. White flowers. We got this plant from a Berkeley Botanical Garden sale many years ago but we question the name it came with since it does not fit Backeberg's description for the species. Z9a
12″+ cutting $24*
Trichocereus sp. SS01 (=Trichocereus peruvianus?)
Columns to 8'+ tall. Fat blue-green stems up to 6″ in diameter and 2″+ spines. White flowers. Can grow very fast; up to several feet a year. Grows prostrate with age. Likely a form of Trichocereus peruvianus.
12″ cut $35*
'Trichopsis sp.?'
An old hybrid from Ed Gay's collection-A cross between an unknown Trichocereus and Echinopsis. Dark green, upright clumping stems to 5'+ tall with 16+ ribs, numerous small stout spines. A lovely plant. Z9a
10″ rooted cutting $25*

Turbinicarpus schwarzii v. rubriflorus Graft
2–3″ gray-green cactus with a flattened-globose stem similar in appearance to Lophophora. This is a rare and highly prized variety with lavender colored flowers and long corky spines. Known from only 2 localities near Cerros Blancos that have been ravaged by thoughtless collecting. Conservation is a must for this cactus!
2.5″ plant grafted on a Stenocereus stock $24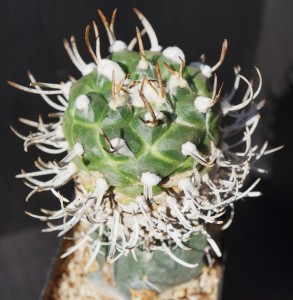 Other Succulents and Xerophytes
Agave titanota
Agavaceae. A distinct medium sized species with rosettes of pale green leaves bearing unusual serrated brown spines along the margins. Flower stalk to 10′. Endemic to limestone hills Rancho Tambor, Oaxaca, Mexico. A decidedly handsome plant. Z9b
10″+ plant a cluster of 5 heads $30*
 Agave cordillerensis NL52409 "Llacay Blanco"
Agavaceae. Clusters of rosettes to 6'+. Gray-blue leaves. Flower stalks to 20'+ with curved or sometimes looped branches, yellow flowers. For decades botanists dismissed this Andean agave as A. americana. G. Pino recently redescribed it as its own species based on its stouter leaves and radically different flower stalks. A beautiful, hardy and versatile species used for its leaf fibers. Widely planted as impenetrable hedgerows to fence in livestock, demarcate fields and act as firebreak. Unknown in cultivation outside the Andes. N. Logan collection; Luribay, Bolivia, 8,000′. Z7b–8b?
12″+ plant with 3 pups 6 years old $35*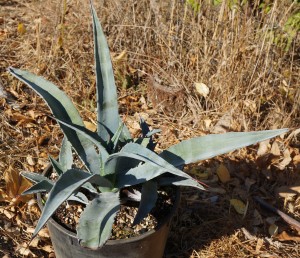 Agave ovatifolia "Noga" "Whale's Tongue Agave"
A recently described and highly desirable species. Dense, rounded, solitary rosette 3–6′ across and 2–5′ tall with short, broad, lightly cupped leaves, an amazing glaucus silver-blue color. Inflorescence up to 14' tall with green-yellow flowers. Endemic to a small area of mountains in Nuevo Leon, Mexico, between 3,700–7,000′. One of the most beautiful of all Agave! Tolerant of both drought and cold. Well suited to temperate climates. Z7b
14″+ plant 7 years old $36*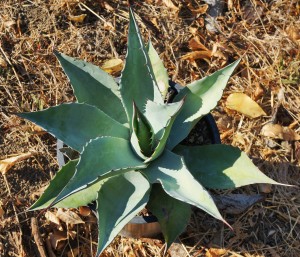 Beaucarnea sanctomariana "Santa Maria Ponytail Palm"
Agavaceae. Branching caudiciform tree 12–24′ tall. The conical swollen trunk can reach 5′ across and has thick brown-gray bark with a rectangular to polyhedral pattern. The elongated slender branches are crowned with spherical rosettes of recurved, bright green, grass like leaves to 2.5′ long. Branched inflorescence to 3′ with many small cream-yellow flowers. This newly described endangered species is a microendemic of rocky outcrops in the deciduous dry forest of the Isthmus of Tehuantepec, Oaxaca, Mexico. Z10a
12″+ plant with 2.5″+ caudex 3+ years old $26
Bursera morelensis BLM981
Burseraceae. Rare species with reddish peeling park and slender pinnate leaves, A more refined version of B. microphylla. Mostul collection from Guanajuato, Mexico. Highly aromatic, the sap is being studied for its cytotoxic properties. One of our favorites in this wondrous genus. Z10a
18″+ multibranched tree $74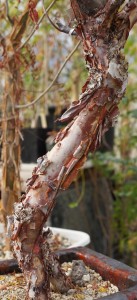 Trunk of old specimen
Commiphora mollis "Mugumbati" "Elephant Myrrh"
Burseraceae. Tree to 25'. Grey to dark green bark and deciduous velvety compound leaves, aromatic sap. Small reddish flowers. Southern African species from hot, dry areas. The roots are eaten by people, elephants and warthogs. Poles from the tree are used in ceremonies and the wood is carved for ornaments and utensils. Z10a
34″+ tree with 1/2″ thick trunk 9 year old $44*
Commiphora africana "Gum Bdellium" "Mothapo"
Deciduous shrub to small tree with gray flaking bark, trifoliate leaves, and small red flowers. An African species, similar to Myrrh, the aromatic resin is used to treat fevers, cramps, snake bite, and as an insecticide. Edible roots. Diamphidia beetle larva live at the roots of the plant and are used by the San to prepare a powerful arrow poison. Z10a
18″+ tree $32*
 Dendrosicyos socotrana "Cucumber Tree" "Qamhiyn"
Cucurbitaceae. Awesome succulent tree to 10'+ with a swollen pachycaul trunk. Small crown of prickly leaves. Yellow flowers, small red fruit. Rare endemic of Socotra threatened by overgrazing. An ancient arborescent deviant, the only member of the squash family to become a tree! Sun, well draining soil and warmth make it happy. Z11a  sold

Ephedra rupestris BK08520.8
Leafless ground hugging plant under 1/2 "tall. Jointed stems to 1". Small red berries. Growing on rocks at over 14,000′, Cusco Dept., Peru. A wonderful dwarf plant. Z6/7?
4″ plant 5 years old $24
Plant in habitat
Hechtia sp. 'Colima'
Bromeliaceae. Dark green to purple-brown rosettes of recurved leaves with silver flecking. Yellow marginal thorns. Flowers not yet seen. Seed from Colima, Mexico. Z9b/10a?
12″ diameter plant 4+ years old $34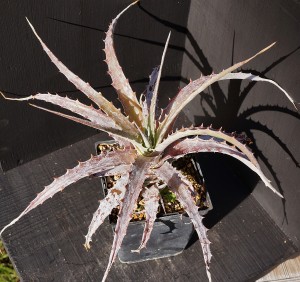 Hechtia sp. 'El Mate'
Bright lime-green to brownish rosettes of recurved leaves with silvery undersides. Flowers not yet seen. Seed from El Mate, Mexico. Z9b/10a?
12″ diameter plant 4+ years old $32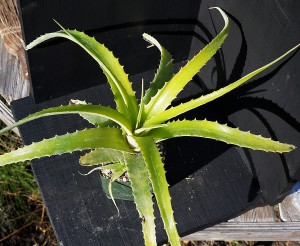 Jatropha papyrifera BK10510.5 "Yuquilla"
Euphorbiaceae. Caudiciform shrub to 6′ with a gorgeous smooth golden bark that peels in papery sheets like some Bursera. Drought deciduous palmate leaves with a blue-green blush. Cream-orange flowers. Growing with Anadenanthera colubrina along the banks of the Rio Mizque near Mizque City, Cochabamba, Bolivia, 6,600′. A local endemic. First introduction. Rooted cuts from 2 clones. Z10a
#1 – 11″ plant (clone A) $32
#2 – 12″ plant (clone B) $32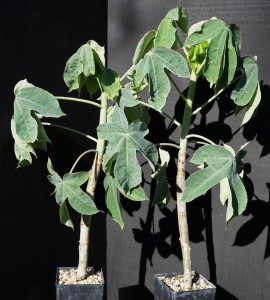 clone A & B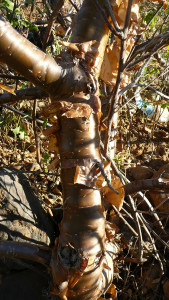 Trunk of plant in habitat
Ochagavia elegans "Ajo Dulcie"
Bromeliaceae. Handsome small rosettes of green to silvery pointed leaves. Compact cluster of dark pink flowers in the center of the rosette followed by sweet edible fruit that looks like a garlic bulb, hence the local name "ajo dulcie". This pineapple relative is endemic solely to Robinson Crusoe Island. Here it forms large dense colonies on rocks and sheer cliff faces. New to cultivation. An awesome rarity that will make a unique edible ornamental for the adventurous grower. Z8b/9a?
12″ plant 4+ years old $45*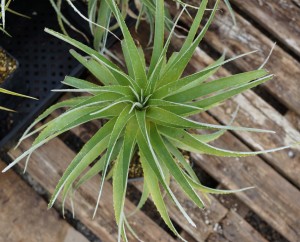 Peperomia majieri 'San Marcos'
One of the coolest looking leaf succulents. Upright, olive green to purple red stems to 6″+, rosettes of thick, flattened leaves with a rough warty texture, white-gray to purplish brown in color and a dark green windowed upper surface. Branched yellow inflorescence to 12″+. First described in 2012. This clone is from a new locale–San Marcos, Ancash Dept., Peru and has larger, rounder leaves than the other clone we offer. Has a strong balsam-spice scent when crushed. First offer of this clone. Rooted cut. Z9b
7″ plant $24

Peperomia sp. nova? BK14514.15
Creeping to pendulous miniature species to 1–3″. Tiny, densely arranged, bright green diamond shaped leaves. Growing in a sunny spot on moss amongst Distergima shrubs, cloudforest above Choquequirao, 10,500′, Peru. Also seen as an epiphyte in deep shade. Very first introduction of this darling. Z9?
1.5″ plant $18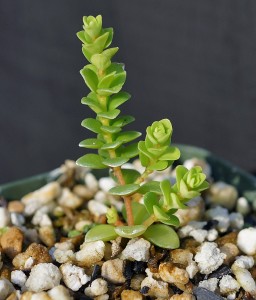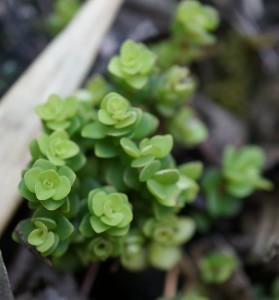 Plant in habitat
Puya herzogii BK10511.5
Bromeliaceae. Clusters of 2–3′ rosettes of grey serrated leaves. Large club like inflorescence to 6–8′ tall, flowering bracts covered in a white and grey fuzz, yellow green flowers with bright orange pollen. The impressive flower stalk makes this one of our favorite species. Growing amongst Puya raimondii, near Rodeo, Cochabamba Dept., Bolivia, 13,300′. Z7/8?
9″+ plant 5+ years old $32*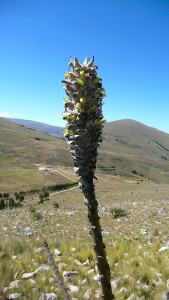 Flower in habitat
Sceletium emarcidum "Kanna" "Kougoed"
Aizoaceae. Pairs of pale green succulent leaves on a small creeping groundcover. White flowers. Has the same medicinal/antidepressant use as the more common S. tortuosum. Z9b
8″+ diameter plant 5+ years old  $34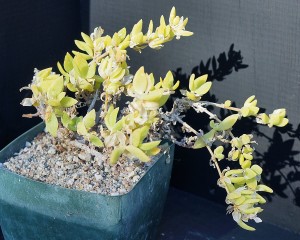 Andean Ethnobotanicals
Anadenanthera colubrina v. cebil? BK151013.8 "Vilca"
Fabaceae. Nitrogen fixing tree 20–40'+ tall. Attractive oak-like bark, develops bizarre knobby protrusions on some older specimens. Feathery pinnate leaves. Cream colored spherical inflorescence. Flat seedpods 5–10″ long, large, round and shiny brown seed. The lowest elevation accession we made, near 2000′, Calilegua, Jujuy, Argentina. Abundant tree in this fairly lush Yungas forest. This population may intergrade with A. colubrina v. colubrina or even A. peregrina. Once one of the most important religious plants throughout the Andes. The earliest evidence of religious plant use in the Americas is 4000 year old Anadenanthera seed found with puma bone pipes in northern Jujuy, Argentina. The seeds are used today in offerings, as an external head wash for headache, and reportedly as an abortificent. The astringent bark is used for the lungs and wound healing. A valued timber tree, the wood is very hard and dense with a beautiful reddish color. A leaf infusion is said to "bring about a period of fervor in cows"…which we'll leave to your imagination. Sun, well draining soil. Drought tolerant. 10a
11" treelet 1 year old $32
Anadenanthera colubrina? BK151013.9 "Vilca"
Another Calilegua accession from near 2200′. These were very tall trees to 35'+ and seemed closest to A. colubrina v. colubrina or A. peregrina. Z10a
16″ treelet 1 year old $36*
 Desfontainia spinosa "Taique" "Borrachero"
Desfontainiaceae. Highly ornamental evergreen shrub. Holly-like leaves, 1″ tubular red flowers with yellow tips, yellow-green fruits. Rare throughout its range from the Columbian Andes south to Chile. Considered a monotypic species with a family all its own. Used as an ethnomedicinal inebrient, possibly a delirient entheogen. The chemistry is poorly understood. Easy to grow, in full sun it stays a bush to 6′, in part shade it can reach 15′ or more. Well drained rich acid soil. Drought tolerant once established, but prefers ample water. Here we offer a lovely flowering size specimen plant of a Chilean clone. Z8b
48″+ multibranched specimen plant $78** 
 Ceratonia oreothauma DH07041 "Oman Carob" "Tiyu"
Fabaceae. Dioecious tree 15–25'+. Thick gray-brown fissured bark. Paripinnate leaves with smaller leaflets than C. siliqua. Yellowish flowers with reddish anthers/stigmas. 2–4″ long pods. Dylan Hannon seed collection, Jabal/Buni Habir, Oman, 5300′. Endemic to the eastern Al Hajar Mountains of Oman. Pods and foliage are used as goat fodder. Thought to be the wild ancestor of carob and may prove useful for breeding with standard Carob tree. Z10a?
12″+ treelet with 2 stems 3 years old $32
Macleania insignis 'Seedling'
Forms a woody caudex to 2'+. Arching branches, new growth is bronze to bright red. Showy clusters of bright orange-red tubular flowers with yellowish tips and edible berries. Cloudforests of Central America. Z9b
12″+ plant with 2″+ caudex, 4 years old $36
Macleania insignis BLM0628
Develops caudiciform lignotubers to several feet across. Arching branches with stiff dark green leaves. New growth is bronze to bright red. Attractive clusters of orange flowers with yellow-white tips, edible berries. Native to the wet montane forests of Central America up to 8000′. Specimen with nice caudex. Z9b
32″+ branched plant with 5″+ diameter caudex $66*
Sassafras albidum "Sassafras"
Lauraceae. Deciduous tree to 40'+. Tri-lobate leaves. Native to the forests of the eastern USA. Widely utilized in folk medicine. The root bark is the source of a delicious medicinal mood enhancing tea. Though completely safe, banned for consumption by the typically misguided FDA. Moist rich soil, sun to part shade. Z5a
40″+ tree 12 years old $46**
BOOKS & PRODUCTS
Only 1 available of each of the following
(see below for shipping costs)

The Genus TURBINICARPUS in San Luis Potosi
by Grupo San Luis
Awesome, heavily illustrated, full color book on one of our favorite Mexican cactus genera! A must for the cactus enthusiast. This book is exceedingly hard to find and we ended up with an extra copy. Book in new condition.
Oversize softcover, color photos, 147 pages (2 lbs) – $68
MAMA COCA
by Antonil
Published in 1978 and long out of print. Anthropological/ethnobotanical work on the Paez of Cauca, Columbia and the sacred role of coca leaf in their culture before it was irrevocably changed by prohibition. Next to Catherine Allen's book on coca in the Quechua culture of Cusco, Peru, this is the best work on traditional relations to a much misunderstood plant that has been central to South American cultures for thousands of years. Book in good condition.
Softcover, b&w illustrations, 295 pages (1 lb) – $28
IMPERFECT BALANCE: Landscape Transformations in the Precolumbian Americas
edited by David L. Lentz
An amazing collaborative effort detailing the extensive interactions and modifications of the vegetation and land by the precolumbian peoples of the Americas. An interdisciplinary work from experts in botany, paleoclimatology, ecology, and conservation management, that reveals the secret of how indigenous people heavily modified North and Central America, the Andes and Amazonia. Thoughtfully arranged with an overview of each regions botanical richness, coupled with case studies of human alterations to the vegetation, fauna, soil, hydrology, microclimate and land surface itself. Vital information on how we may be able to avoid the ecological mistakes of past cultures and begin to learn from their remarkably innovative relations to the land! Highly recommended. Out of print, this is our last as new copy. Retailed at $42!
Softcover, black & white photographs, 547 pages (3 lbs) $20
PERMACULTURE: Principles & Pathways Beyond Sustainability
by David Holmgren
This significant work by the co-originator of the Permaculture concept is essential reading for students of conservation biology, ethnobotany and anyone interested in the preservation and evolution of sustainable human culture. Holmgren shows how permaculture is much more than a system of gardening and provides refreshing and controversial perspectives on a range of environmental and social issues, drawing a correlation between every aspect of how we organize our lives, communities and landscapes and our ability to creatively adapt to the ecological realities that shape human future. Our last brand new copy. Retails at $30.
Softcover, black & white illustrations (2 lbs) $22
OPOPANAX (SWEET MYRRH) Commiphora holtziana
Also known as Hagar, dried pieces of sap from east African trees. Similar to myrrh but has a warmer, sweeter scent. A venerable medicine and incense used in biblical times for wound healing.
1 lb Opopanax pieces –  $22
CHUSPAS
Traditional woven wool bags for coca leaf. Made on backstrap looms by friends in Cusco, Peru, with color-fast dyes from local vegetal and insect substances. Quechua weavings contain a mythical encoding, a nonverbal visual expression of information through the use of an elaborate lexicon of symbols. Through traditional weavings the meaningful relationships and worldview of Andean culture have been maintained from generation to generation.
#1 – Brown chuspas 6″ x 7″ (not including tassels) shoulder strap 22″ (1/2 lb) – $36
#2 – Red chuspas 6″ x 7″ (not including tassels) shoulder strap 24″ (1/2 lb) – $36
GUAYUSA Ilex guayusa
Guayusa is a tree native to the eastern montana of Columbia, Ecuador and Peru and closely related to Yerba Mate. Guayusa leaves contain a significant amount of caffeine and have been used for their healthy stimulating properties for thousands of years. While Yerba Mate has enjoyed ever increasing popularity, Guayusa has remained shrouded in mystery. In Ecuadorian Amazonia, Guayusa tea is drunk as a general tonic, a treatment for headaches, stomach problems and for ritual purification. It is considered a productive aphrodisiac. The tea is also drunk shamanically to enhance dreaming, and is reported by some to consistently produce lucid dreams. Guayusa brews a very tasty tea, somewhat reminiscent of Green Tea but with a sweet aftertaste. It has a very low tannin content and therefore can be steeped for a long time to bring out the full flavor of the leaves. Use about 1–2 teaspoons per cup. The tea produces a pleasant state of enhanced sensory awareness without any jittery or edgy effects. In fact, in Ecuador it is said to be "good to calm nerves".
1 lb Ecuadorian Guayusa leaf powder -$26
GOLD ROOT Heliopsis longipes
Composite endemic to the mountains of central Mexico up to 8,000'. The fleshy lateral roots produce a very intense tingling sensation in the lips and mouth when chewed, much stronger than Echinacea or Spilanthes which have similar properties. Traditionally used for toothache (very effective!) and oral health. Rich in alkamides with impressive analgesic, antiinflammatory, antibacterial, antifungal, insecticidal and immune boosting effects. Demand for its insecticidal activity nearly lead to its extinction during World War 2. The pleasant tingling effect from the chewed root can be transferred to other areas of the body and has been used as topical anesthetic and for interesting erotic purposes. Normally only available in very tiny amounts, here is your chance to stock up!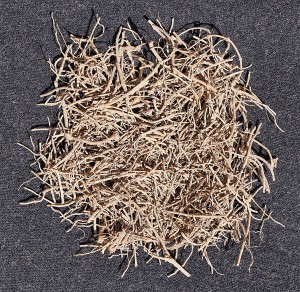 1 oz Wildcrafted Mexican Gold Root -$48
1/4 lb Wildcrafted Mexican Gold Root – $138
1/2 lb Wildcrafted Mexican Gold Root – $215
IPORURU LEAF Alchornea castaneifolia
A shrubby Amazonian tree and important medicinal. Used in Peruvian dietas as a "teacher plant" and occasionally added to ayahuasca brews. Well known in Peru for its antiinflammatory and antiarthritic action and being utilized in North America by athletes, yogis and herbalists for its ability to support muscle and joint structure, aiding flexibility of movement and range of motion. Reportedly an effective topical pain reliever when rubbed into injuries. In parts of Peru it is hailed as a useful aphrodisiac, said to increase female fertility and a remedy male impotency. Laboratory research has shown Iporuru to have antitumor, antifungal and antiviral actions.
1 lb Wildcrafted Peruvian Iporuru leaf powder – $26
TIBETAN RHODIOLA ROOT Rhodiola spp. (kirilowii, sacra, crenulata)
Powdered root for tea or formulations. As a sacred herb, these species have been used interchangeably as a vitalizing tonic and supreme medicine since the beginning of the Tibetan civilization. Believed to enhance wisdom and prolong life, it is said Tibetan monks made use of the root to fuel their "spiritual power." Speculated to have played a significant role in the evolution of Tibetan culture. Traditionally utilized much the same as Rhodiola rosea, it is a specific for lung disease. Modern studies are few compared to R. rosea, the phytochemistry is different, yet its value as an adaptogen and energizing psychic stimulant cannot be questioned.
1 kilogram (2.2 lbs) Tibetan Rhodiola root powder – $48
Shipping for Books & Products
To determine shipping costs, add up the number of lbs in parentheses ( ) that is listed with each item
Priority Mail- add $7.50 for the first lb, $2.25 for each additional lb
When ordered with plants just add $2.25 for each lb
Books only sent Media Mail – add $4 for the first lb, $0.75 for each additional lb
Please email us for international shipping costs; benkamm@monitor.net
---