Conservation of Resilient Biodiversity through Propagation, Dissemination and Education
Website updated 8/15/16
See the bottom of this page for one-of-a-kind Specimen Plants!
Email for a list of Summer Sale Plants.
Greetings! A small family run business, Sacred Succulents was founded in 1997, borne from our love of plants and a calling to the sacred duty of their conservation through propagation, dissemination and education. While our initial focus was succulents and xerophytes, our travels and the necessity of species conservation has us propagating a diverse cornucopia of unusual and wonderful beneficial plants from remote and immediate regions of our fecund planet. We strive toward maximizing biodiversity in our gardens and offerings. Widespread dispersal of plants along with propagation on an individual level is one of the most viable means of helping protect wild populations while assuring the evolutionary expansion of these botanical wonders.
We all have the strange grace to live in this time of climatic change and massive biological extinction recognized to be greater than anything the biosphere has experienced in 65 million years. Plant extinctions have been estimated at a loss of nearly 2 species a day. Along with this extinction is the loss of our collective human heritage, as the cultures, languages, dreams and songs that were intimately woven to those species disappear with them. Amongst thousands of known food plants, the world's food supply relies on a scant dozen. We must do much more than save heirloom varieties and landraces of the major crops. We encourage you to relearn the forgotten indigenous foods and medicines of your region and of your lineage. Where habitat still exists, these are often disappearing from the fields and forests for lack of tending. Each and every one of us are co-creators of our ecosystems. Experiment with strange and rare edible plants, expand your palate. These are the seeds of true health and food security.
Whether you have a bright window in a city apartment, a suburban house with a yard, or access to acres of land, you can take part in the nurturing of endangered plants, propagate them and pass along the seeds, starts, attendant aspirations and ethnobotanical knowledge to friends. Realize the power we each have to assist our vanishing flora, acting as conservationists through a simple and joyful role as gardeners, horticulturalists, admirers of plants. These small endeavors help to put us in resonance with the viridian heartbeat of the biosphere, a reminder of earthly things like soil, weather and mooncycles in a world increasingly adrift in the navel gaze of cyberspace. Attention to seasonal gifts such as Spring flowers can refresh our wonder in the delicate fortitude of life in all its myriad forms. There is so much life and potential to celebrate all around us!
Our coveted paper catalog is beautifully illustrated and full of ethnobotanical and horticultural information including detailed seed germination and propagation techniques. Some of what we offer:
Cacti– endangered Ariocarpus, Aztekium, Pelecyphora, Turbinicarpus species… we have one of the most diverse selections of Trichocereus species including new hybrids and mutant San Pedros. We are involved with ongoing studies of this genus in South America: mapping distribution, ecology, ethnobotany and taxonomy through genetic analysis to aid preservation.
Other Succulents & Xerophytes– Aloe, rare and hardy Agave & Yucca, Baobabs & caudiciforms, aromatic Bursera (Copal, Palo Santo), Commiphora (Myrrh, Guggul) & Boswellia species (Frankincense), rare Echeveria, a large selection of Ephedra species, Hoodia gordonii, medicinal Peperomia, uncommon Puya, obscure Rhodiola & Sedum species, Sceletium tortuosum…
Unusual & Rare Perennial Edible Plants– Gaultheria, Vaccinium, Amelanchier, Lycium, Elaeagnus, Rubus, Ribes, Ugni, Agapetes … Chufa, Capers, Ramps & rare Alliums, Rampion, Breadroot, Vigna subterranea & edible bulbs, tubers, vines, fruit trees and more for adventurous gardeners, permaculturalists, and food forest fanatics.
Obscure Medicinals– Codonopsis species, Gold Root, Green tea, Honeybush & Rooibos, Maralroot, Mandrake, Sea Buckthorn, heirloom Tobacco, Yaupon, Yerba Mate, Dioscorea, Dan Shen & other Salvia species, Shatavari, Umckaloaba, Silene capensis…
Rare & Endangered Chilean Endemics– Latua pubiflora, Gomortega keule, Desfontainia spinosa, Ugni, Coriaria, Chilean Macnut, Fabiana, Macqui Berry, Bell Flower, Nothofagus…and from the Juan Fernandez Archipelago- Dendroseris, Ochagavia elegans, Chenopodium sanctae-clarae, Nicotiana cordifolia, and more…
 Andean Ethnobotanicals– From our annual expeditions. Ancient medicinals and species from one of the most imperiled forest ecosystems on the planet- Polylepis, Buddleja, Hesperomeles, Alnus, Escallonia, Erythrina, Anadenanthera, Puya raimondii, Calceolaria, Macleania, Cavendishia, Pernettya, Bomarea, Cypella, Phaedranassa, Stenomesson, etc. Traditional Andean food plants- Caigua, Kaniwa & Quinoa, Tarwi, Aguaymanto, Naranjilla, Tamarillo, Sauco Berries, Ulupica Pepper, Lacayote squash, Congona, Jaltomata, wild Tomatoes, Passiflora and a large selection of heirloom tubers- Ajipa, Oca, Ulluco, Achira, Mashua, Mauka, Arracacha, Yacon, Maca.
 Plants of California – a focus on forgotten feral foods like Brodiaea, Calochortus, Triteleia, Lilium, Yampah, Chia, plus medicinals and endemic rarities.
 A diversity of wild crafted seed from South Africa, China, Himalayas & other remote regions… rock garden & alpine miniatures…and much more!
Books– Hard to find titles on ecological horticulture and ethnobotany.
Please send $2 ($4 international) to receive our fully illustrated, highly informative catalog and additional supplements.
Seed deliveries anywhere in the world.
Sacred Succulents, PO Box 781, Sebastopol, CA 95473 USA
Email: sacredsucculents@hushmail.com
Please note: We do not have a mobile device and often only check our emails in the morning Monday through Friday,
so if you don't get an immediate response from us–do not fret! We will get back to you.
To receive our periodic (every 4-6 weeks) emails listing new plants & seeds, specials, news from our gardens, greenhouses & travels sign up at –
http://lists.sonic.net/ mailman/listinfo/ sacredsucculents
Rare Plant and Seed List
Available by subscription. This is where you will find first offerings of exciting new plants that we have in quantities too small to list in our main catalog. One of a kind specimens, rarities and introductions from our travels, and other plants and seeds from the far reaches of our wondrous fertile planet. Something unique for everyone! Cacti including uncommon Trichocereus and Ariocarpus hybrids and specimens. Succulents such as rare Bursera, Commiphora and Boswellia. Obscure medicinal herbs, unusual perennial foodcrops from around the world and selections from our Andean accessions. A fully descriptive list. A must for any serious plant collector, herbal horticulturalist and permaculture enthusiast.
4 issues $5 ($10 outside USA), 8 issues $8 ($16 outside USA)
Grafting Guide
Grafting of a slower growing species onto a faster growing stock increases plant growth significantly. It is a viable means of quickly producing mature specimens for seed production and vegetative propagation. This illustrated guide covers all aspects of grafting, from week old seedlings to mature specimens. Includes tricks we have learned over the years that help make this valuable conservation technique accessible and practical. Focuses mainly on Cactaceae but coverage is given to Euphorbiaceae, Apocynaceae and other succulent families. $9.00 postage paid USA, add $6 postage foreign
Public Domain Pledge
An important terms of business note to all our customers:
In order to be in line with our mission to support the preservation of botanical biodiversity, following the lead of J.L. Hudson Seeds and in recognition that the biodiversity of the Earth is the common heritage of all life, all of our seed and plant offerings are now Public Domain. This means that all plants and seeds are supplied solely under the following conditions: We expressly prohibit the use of any seeds or plants supplied by us, or their progeny, in any form of genetic engineering, breeding, or research which will result in any form of life patent, variety protection, trademarks, breeder's rights or any form of intellectual property applied to living things which would compromise the Public Domain status of the seeds, plants, their progeny and any genetic material therein. We expressly prohibit the transfer to any third party of any seeds, plants, their progeny or any portion of their genetic material without these prohibitions in place. Commercial propagation is encouraged, but in the unlikely event that large-scale commercial distribution is achieved, benefit-sharing along the path towards the source, in accordance with the spirit of the International Convention on Biological Diversity, will be undertaken. Thank you for your understanding and support!
We believe the biological diversity of the world is a common inheritance shared by all and the right to having a personal individual relationship with the myriad life forms of the planet is intrinsic to that. It is the very fibers that weave us.
((((((((( Plant seeds. Plant lots of seeds. Plant them without fear. Plant them with love. )))))))))
"We must look for help not so much to the stamen counters as to the plants themselves." – Luther Burbank
 "The greatest service which can be rendered any country is to add a useful plant to its culture" – Thomas Jefferson
Specimen Plant Sale
USA customers only. Most of these plants are one-of-a-kind and have been in our collection for many years. This is a one time offer for most of these plants–they will not be available again! If you are interested in purchasing a plant please email first to confirm availability- sacredsucculents@hushmail.com – please provide your full mailing address in the email.
Shipping and Handling for Specimen Plants
First class priority mail = $7.50 for the first plant $2 each additional plant. Express mail = Inquire for current costs
*Plants marked with a single asterisk are large, heavy and have special shipping charges = $15.00 for the first plant $2 each additional plant.
**Plants marked with double asterisk are extra large and/or heavy. We charge the actual USPS postage cost plus an $6 handling fee on the total order. Email with your zipcode for a price quote.
Please note: Shipping costs for these ** will be significant for folks in eastern states (for example a 36″ Trichocereus sent to the East Coast would be around $40 shipping but less than half that for the West Coast). You may inquire the approximate shipping cost by emailing us your zipcode.
California residents add 7.5% sales tax. Sonoma county residents 8.5%.
Specimen Plants – CACTACEAE
Ariocarpus fissuratus Graft
6+ diameter cluster of 8 heads, each 2–2.5″ diameter grafted on Stenocereus stock $125*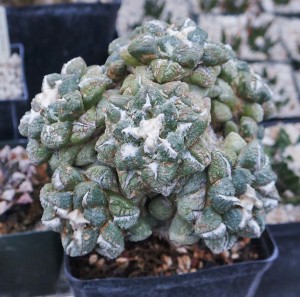 Leuchtenbergia principis
Unique cactus to 2′ high. Blue green tubercles, traingular and up to 5″ long tipped with papery twisted spines to 4″. Large yellow flowers. Native to the Chihuahuan desert, northern and central Mexico. Related to the genus Ferocactus. A slow grower. Z9a
6″ plant 15 years old $35*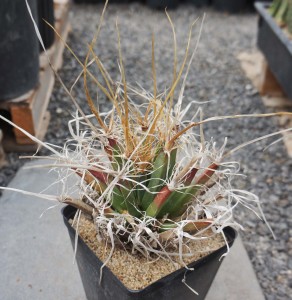 Trichocereus bridgesii f. monstrosus Clone B "Achuma"
2–5 ribs initially bearing 3″ yellow spines then becoming smooth and spineless. The stems reach 4–6″+ in length then stop growing and begin to offset. Eventually forms dense stands to 6′ tall made up of hundreds of small multibranched stems.
#1 – 26″+ tall plant with over 50 stems $135**
Trichocereus pachanoi f. cristata BK14518.5 "Mutant San Pedro"
The parent had dark green short columnar stems of molten-wax appearance and fans of cristate growth. Open pollinated. Parque de las Leyendas, Lima, Peru. The progeny has a very high incidence of mutant growth. We offer a lovely crested seedling here. First introduction.
3.5″+ crested plant 2 years old $32  SOLD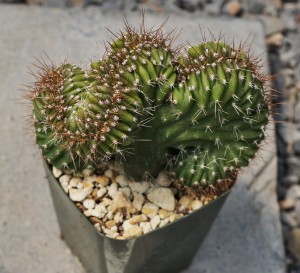 Trichocereus pachanoi f. monstrosus X Trichocereus sp. SS02
This hybrid has a high percentage of monstrose and cristate seedlings. Here we offer unique seedlings with monstrose or cristate traits.
#1  3.5″+ crested plant 3 years old $28   SOLD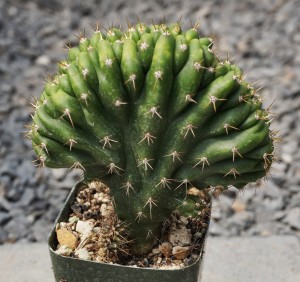 #2 Plant with 2 monstrose stems 12–14″, plus smaller stems to 6.5″ and 5.5″ crest $76*   SOLD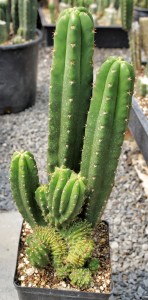 Trichocereus peruvianus v. cuzcoensis (=Trichocereus cuzcoensis) "Hawaq'ollay"
An underappreciated spiny peruvianoid with glaucus-blue upright stems to 15′ + and gorgeous spines to 2.5″+. Inter-Andean valleys of Cusco Dept., Peru. Considered a "San Pedro" and utilized as medicine since antiquity. Sections of de-spined stems can still be found for sale at the outdoor Cusco market for use as a famous shampoo said to treat baldness, as a contraceptive and remedy for burns, headaches, fevers, swellings, flu. Specimens listed below. Z8a–9a
All of the following are flowering size specimens in 5 gallon pots unless noted otherwise.
***These are available for pick up-by appointment only- at our home in Occidental. Please email to reserve plants and arrange pick up.  sacredsucculents@hushmail.com
For those further away, we will consider shipping, but the plants will need to be cut into smaller sizes- email for shipping quotes.
A – one 60″ stem, one 54″ stem and one 36″+ stem. $120***
B – four 24–28″ stems. This clone has a larger number of spines per areole giving it a shaggy appearance. $86***
D- one 66″+ stem, leaning a little, small pup halfway, long spines. $64***
E- one 60″ stem, one 38″ stem and one 26″ stem, very long, stout spines $105***
F- 10 gallon pot. One 42″ stem, one 36″ stem, two 28″ stems, one 15″ stem + several pups. More slender clone with yellow spines. $88***
G- one 36″ stem, four 24–26″ stems, two 6–9″ stems. Nice uniform, yellowish spines. $115***
I- 10 gallon pot. One 36″ stem, one 30″ stem, two 12–16″ stumps with several pups, some scarring on stems. $45***
Trichocereus knuthianus (=Trichocereus peruvianus v. knuthianus, SS03 )
Graceful upright columns to 16′ or more. Dark green stems up to 6″ in diameter. Spines to 2″ long. White nocturnal flowers, edible fruit. A desirable rare and beautiful plant from northern Peru that is closely allied with T. peruvianus . Z9a
10 gallon pot, 18″ branched stump with one 36″ stem, another 36″ stem with 3 terminal pups, one 14″ stem and one 16″ stem. $100***
 ***Available for pick up-by appointment only- at our home in Occidental. Please email to reserve plants and arrange pick up.
Trichocereus riomizquensis BK10508.7 "Achuma"
First offering of seedlings–short to long spined. The mother was bridgesii-like, formed upright stands to 8'+ tall. 2–5″ diameter stems with blue-green to yellow-green epidermis. Spines to 3″ long. Planted around the town of Totora, Cochabamba Dept., Bolivia, 9,000′. Local women call it "achuma" and use it externally to treat fever. No one knew where it grew wild. We searched where Ritter first described the plant at Chujllas, and along the Rio Mizque, adjacent valleys and slopes, but never found a single wild plant, only herds of feral goats. Z9a
#1 Short spines, 11″ plant 5 years old $40* Sold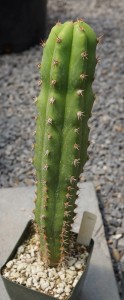 #2 Long spines, 12″ plant 5 years old $40* SOLD

Trichocereus tacaquirensis?
4–6″ thick dark-green stems to at least 10′ in height. 7–9 ribs with large felty areoles and numerous thick dark spines to 3″. White, night blooming flowers. An impressive cactus, very similar to T. taquimbalensis. Grows at 10,000', Tacaquira, Chuquisaca, Bolivia. Rooted cutting. Z9a
12″+ plant $25*
Trichocereus taquimbalensis Kimnach 2760B X Trichocereus bridgesii
Kimnach's collection of the stout spined T. taquimbalensis crossed with T. bridgesii. So far the plants favor their mother's trait of robust spines.
8″+ plant 3+ years old $28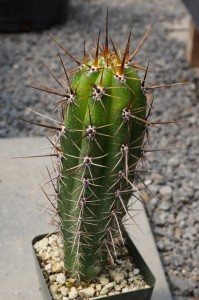 Trichocereus uyupampensis? BBG60.0450
Unique arborescent peruvianoid to 15'+. Olive green stems 3–4″ in diameter and 5–9 ribs. Spines 1–3″ long. White flowers. We got this plant from a Berkeley Botanical Garden sale many years ago but we question the name it came with since it does not fit Backeberg's description for the species. Z9a
12″+ cutting $24*
Trichocereus sp. SS01 (=Trichocereus peruvianus?)
Columns to 8'+ tall. Fat blue-green stems up to 6″ in diameter and 2″+ spines. White flowers. Can grow very fast; up to several feet a year. Grows prostrate with age. Likely a form of Trichocereus peruvianus.
12″ cut $35*
Other Succulents and Xerophytes
Agave titanota
Agavaceae. A distinct medium sized species with rosettes of pale green leaves bearing unusual serrated brown spines along the margins. Flower stalk to 10′. Endemic to limestone hills Rancho Tambor, Oaxaca, Mexico. A decidedly handsome plant. Z9b
10″+ plant a cluster of 5 heads $30*
Boswellia serrata cl. W "Indian Frankincense" "Salai"
Deciduous tree 15–35'+ tall, thickened stems and peeling bark. Pinnate leaves with serrate margins. Native to the dry tropical forests of India and Pakistan. A highly important medicinal and sacred aromatic incense, similar to African Frankincense, B. sacra. Exceedingly scarce in cultivation. Z10b
3.5″+ tall plant with 3/4″ caudex $48 Sold!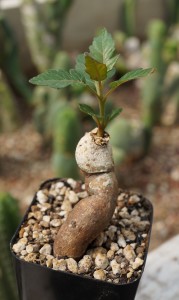 Bursera glabrifolia BLM1306 "Copalillo"
Small aromatic tree with smooth golden to grey bark and slightly fuzzy pinnate leaves. Sierra San Pedro, Oaxaca, Mexico. Mountain species found in the zone between oak forest and tropical dry forest. A common source of Copal incense and linaloe oil used in perfumery. The soft wood is also favored by artisan woodcarvers in Oaxaca, which has sadly lead to a decimation of the trees in the wild once the carvings became popular internationally. Still rare in cultivation, propagation is encouraged. Specimen sized plant from cutting. Z9b
30″+ multibranched plant $78**
Commiphora mollis "Mugumbati" "Elephant Myrrh"
Burseraceae. Tree to 25'. Grey to dark green bark and deciduous velvety compound leaves, aromatic sap. Small reddish flowers. Southern African species from hot, dry areas. The roots are eaten by people, elephants and warthogs. Poles from the tree are used in ceremonies and the wood is carved for ornaments and utensils. Z10a
34″+ tree with 1/2″ thick trunk 9 year old $44*
Commiphora mukul "Guggul" "Indain Myrrh"
Attractive small deciduous tree with spinescent branches, thickened trunks and gray peeling bark. Grows wild in the semi-arid states of Rajasthan, Gujarat, and Karnataka in India. The sweet smelling aromatic sap, similar to Myrrh, has been utilized in Ayurvedic medicine for over 3,000 years as a treatment for arthritic conditions and heart disease. Modern clinical studies show it to be anti-inflammatory, lower cholesterol and burn excess body fat. The trees are now endangered due to the increased demand for the resin which has led to harvesting practices that eventually kill the trees. Easy to grow, drought hardy and a natural bonsai. Z10a
36″+ tree 5 years old $35*   SOLD
Andean Ethnobotanicals
Aspidosperma quebracho-blanco "Quebracho"
Apocynaceae. Tall tree to 50′ with a crown of weeping branches. Thick cork-like bark, hard yellow-ochre wood highly valued. Whorls of 3 stiff, pointed, green leaves. Yellow flowers. Native to the Chaco dry forests of Bolivia and Argentina. The bark is used for lung conditions, fever, as an astringent, general tonic and famous aphrodisiac. Contains several alkaloids including yohimbine. Drought hardy. Z9b/10a?
16″+ plant 3 years old $25*
Blechnum sp. BK10512.10
Blechnaceae. Unusual and distinct fern with a rosette of thick compound leaves on a small trunk to about 12″ tall, like a miniature cycad. New growth is a magenta to pink-bronze color. Polylepis lanata forest understory and edges. Above Rio Lope Mendoza, Cochabamba Dept., Bolivia. This beautiful fern has been slow growing from spores, we finally have a some up to size that we can offer for the first time. Z8/9?
3″+ plant 4 years old $25
Desfontainia spinosa "Taique" "Borrachero"
Desfontainiaceae. Highly ornamental evergreen shrub. Holly-like leaves, 1″ tubular red flowers with yellow tips, yellow-green fruits. Rare throughout its range from the Columbian Andes south to Chile. Considered a monotypic species with a family all its own. Used as an ethnomedicinal inebrient, possibly a delirient entheogen. The chemistry is poorly understood. Easy to grow, in full sun it stays a bush to 6′, in part shade it can reach 15′ or more. Well drained rich acid soil. Drought tolerant once established, but prefers ample water. Here we offer a lovely flowering size specimen plant of a Chilean clone. Z8b
48″+ multibranched specimen plant $78** 
Macleania insignis BLM0628
Develops caudiciform lignotubers to several feet across. Arching branches with stiff dark green leaves. New growth is bronze to bright red. Attractive clusters of orange flowers with yellow-white tips, edible berries. Native to the wet montane forests of Central America up to 8000′. Specimen with nice caudex. Z9b
32″+ branched plant with 5″+ diameter caudex $66*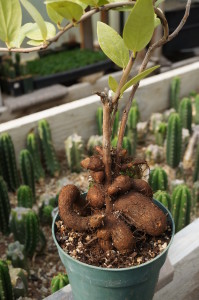 Macleania pentaptera "Hualicon"
Woody caudiciform with upright branches 3–7'+. Shiny dark green ovate leaves, densely arranged along the stems and deeply cordate. Clusters of red-orange, pentagonal tubular flowers with green and white tips. Clear whitish berries, very sweet and tasty. Endemic to the forests of Pinchicha, Los Rios and Cotopaxi, Ecuador between 500–7000′. A gorgeous plant, one of the more tropical species. Flowering size specimen plant. Z9b/10a
24″ plant $40*
Ochagavia elegans "Ajo Dulcie"
Bromeliaceae. Handsome small rosettes of green to silvery pointed leaves. Compact cluster of dark pink flowers in the center of the rosette followed by sweet edible fruit that looks like a garlic bulb, hence the local name "ajo dulcie". This pineapple relative is endemic solely to Robinson Crusoe Island. Here it forms large dense colonies on rocks and sheer cliff faces. New to cultivation. An awesome rarity that will make a unique edible ornamental for the adventurous grower. Z8b/9a?
12″ plant 4+ years old $48*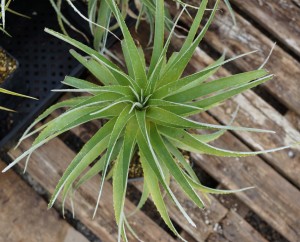 Podocarpus parlatorei  "Pino de monte" "Andean Pine"
Podocarpaceae. Evergreen tree to 40′, greyish bark and flattened green needles. Very durable wood. Podocarpus forests use to cover vast portions of the Andes up to 13,000′, but other than a reserve in Ecuador and central Peru, these forests are no more. Needless to say, propagation is vital. It's mindboggling that Mexican pine is being planted all over these mountains while this amazing native species is slipping away. Rooted cutting. Z7/8?
48″+ tree $50**
Other Beneficials, etc.