Conservation of Resilient Biodiversity through Propagation, Dissemination and Education
Website updated 11/3/17
We are safe from the fires that swept through Sonoma County last month about 2o miles form our home. Our hearts go out to friends and communities that lost their homes. We appreciate all the emails of concern for our well being. We were recovering from a bad flu when the fires began. We suspect due to the smoke exposure we developed a debilitating earache that had us laid up the better part of the last 2 weeks and have fallen behind with email, again. We hope to get back on top of things within the coming week.
With the somewhat absurd number of calamities in our life this past year, loss of loved ones, erratic extreme weather, computer mishaps, and being understaffed it has been a continual challenge for us to keep on top of email in a timely manner. Our ongoing apologies for this, we continue to beg your patience. We are juggling a lot. Keeping our plants propagated and filling orders always takes precedence over sitting at the computer. We will have some extra help soon to mitigate this, but until then please know that we may be slow to respond to email!
NEW LIMITED SPECIMEN SALE PLANTS, BOOKS and PRODUCTS LISTED AT THE BOTTOM OF THIS PAGE!
4/28/17  Please note:
My friend Rob Montgomery has died. The is the 4th friend to die in the last few months. Rob was the closest thing I've had to a mentor. Rob is the one who really introduced me to ethnobotany, gave me my first Trichocereus cactus when I was 18 and encouraged a deep fascination with all plants. Rob founded the seminal nursery …of the jungle and Botanical Preservation Corps. He had a huge impact on the lives of many and will be missed.
News of Rob's death made us think of this piece from Ursula K. Leguin's novel, The Other Wind –
"I think that when I die, I can breathe back the breath that made me live. I can give back to the world all that I didn't do. All that I might have been and couldn't be. All the choices I didn't make. All the things I lost and spent and wasted. I can give them back to the world. To the lives that haven't been lived yet. That will be my gift back to the world that gave me the life I did live, the love I loved. The breath I breathed. "
 We are still a bit behind with emails and there is still some bugs in the system. If you don't get a response from us within 4 or 5 days, please try our personal email- benkamm@montior.net
Thank you for your ongoing patience and support during this unusual time.
  2/28/17 My dear uncle, David Callahan, just passed away and dealing with family matters has put me behind with business again. When news of his death came I was admittedly not even fully caught up after several weeks of computer problems in January/February. The past few months have been highly unusual–the death of 2 other friends, a medley of ongoing tech. problems, extreme weather, etc. In nearly 20 years of running SS we've never been this behind with orders and email—we've also never had this many challenges arrive in such a short time. When it rains it pours–both figuratively and quite literally!
We are doing are very best to get caught up over the next couple weeks (barring further catastrophe's) and get on track for the blooming of spring. We deeply appreciate all of your continual patience and understanding during this time!
2/22/17 
We have (again!) been experiencing some ongoing computer conundrums the past weeks and a good number of emails were lost.
If you have sent an email and not gotten a response (in our usual 1-3+ days response time!) –please email again! The issue appears to be fixed yet it will likely take us a week or two to get totally caught up with correspondence. Our apologies for the hassle. Modernity is not all it is made up to be!
In addition to such obnoxious technical issues we continue to have one of the wettest winters northern California has experienced in over two decades. While the torrential rainfall is a blessing to much of the vegetation the perpetual wet has begun to take its toll on many of the cacti and succulents we grow outside. We are seeing a pretty high incidence of tip damage (possibly exacerbated by numerous hailstorms) and subsequent rot–though seldom fatal, it is a tad unpleasant to deal with the oozing brown snot and means our stock of healthy Trichocereus cuttings will be limited this year. It may also effect this years seed production as well.
Dealing with these computer and weather related problems (not to mention 2 sick kids!) the past few weeks has us a bit behind with orders and weeks behind with the next Rare Plant List. If you are waiting on a shipment, we really appreciate your patience.
Thank you for your understanding and support! 
Greetings! A small family run business, Sacred Succulents was founded in 1997, borne from our love of plants and a calling to the sacred duty of their conservation through propagation, dissemination and education. While our initial focus was succulents and xerophytes, our travels and the necessity of species conservation has us propagating a diverse cornucopia of unusual and wonderful beneficial plants from remote and immediate regions of our fecund planet. We strive toward maximizing biodiversity in our gardens and offerings. Widespread dispersal of plants along with propagation on an individual level is one of the most viable means of helping protect wild populations while assuring the evolutionary expansion of these botanical wonders.
We all have the strange grace to live in this time of climatic change and massive biological extinction recognized to be greater than anything the biosphere has experienced in 65 million years. Plant extinctions have been estimated at a loss of nearly 2 species a day. Along with this extinction is the loss of our collective human heritage, as the cultures, languages, dreams and songs that were intimately woven to those species disappear with them. Amongst thousands of known food plants, the world's food supply relies on a scant dozen. We must do much more than save heirloom varieties and landraces of the major crops. We encourage you to relearn the forgotten indigenous foods and medicines of your region and of your lineage. Where habitat still exists, these are often disappearing from the fields and forests for lack of tending. Each and every one of us are co-creators of our ecosystems. Experiment with strange and rare edible plants, expand your palate. These are the seeds of true health and food security.
Whether you have a bright window in a city apartment, a suburban house with a yard, or access to acres of land, you can take part in the nurturing of endangered plants, propagate them and pass along the seeds, starts, attendant aspirations and ethnobotanical knowledge to friends. Realize the power we each have to assist our vanishing flora, acting as conservationists through a simple and joyful role as gardeners, horticulturalists, admirers of plants. These small endeavors help to put us in resonance with the viridian heartbeat of the biosphere, a reminder of earthly things like soil, weather and mooncycles in a world increasingly adrift in the navel gaze of cyberspace. Attention to seasonal gifts such as Spring flowers can refresh our wonder in the delicate fortitude of life in all its myriad forms. There is so much life and potential to celebrate all around us!
Our coveted paper catalog is beautifully illustrated and full of ethnobotanical and horticultural information including detailed seed germination and propagation techniques. Some of what we offer:
Cacti– endangered Ariocarpus, Aztekium, Pelecyphora, Turbinicarpus species… we have one of the most diverse selections of Trichocereus species including new hybrids and mutant San Pedros. We are involved with ongoing studies of this genus in South America: mapping distribution, ecology, ethnobotany and taxonomy through genetic analysis to aid preservation.
Other Succulents & Xerophytes– Aloe, rare and hardy Agave & Yucca, Baobabs & caudiciforms, aromatic Bursera (Copal, Palo Santo), Commiphora (Myrrh, Guggul) & Boswellia species (Frankincense), rare Echeveria, a large selection of Ephedra species, Hoodia gordonii, medicinal Peperomia, uncommon Puya, obscure Rhodiola & Sedum species, Sceletium tortuosum…
Unusual & Rare Perennial Edible Plants– Gaultheria, Vaccinium, Amelanchier, Lycium, Elaeagnus, Rubus, Ribes, Ugni, Agapetes … Chufa, Capers, Ramps & rare Alliums, Rampion, Breadroot, Vigna subterranea & edible bulbs, tubers, vines, fruit trees and more for adventurous gardeners, permaculturalists, and food forest fanatics.
Obscure Medicinals– Codonopsis species, Gold Root, Green tea, Honeybush & Rooibos, Maralroot, Mandrake, Sea Buckthorn, heirloom Tobacco, Yaupon, Yerba Mate, Dioscorea, Dan Shen & other Salvia species, Shatavari, Umckaloaba, Silene capensis…
Rare & Endangered Chilean Endemics– Latua pubiflora, Gomortega keule, Desfontainia spinosa, Ugni, Coriaria, Chilean Macnut, Fabiana, Macqui Berry, Bell Flower, Nothofagus…and from the Juan Fernandez Archipelago- Dendroseris, Ochagavia elegans, Chenopodium sanctae-clarae, Nicotiana cordifolia, and more…
 Andean Ethnobotanicals– From our annual expeditions. Ancient medicinals and species from one of the most imperiled forest ecosystems on the planet- Polylepis, Buddleja, Hesperomeles, Alnus, Escallonia, Erythrina, Anadenanthera, Puya raimondii, Calceolaria, Macleania, Cavendishia, Pernettya, Bomarea, Cypella, Phaedranassa, Stenomesson, etc. Traditional Andean food plants- Caigua, Kaniwa & Quinoa, Tarwi, Aguaymanto, Naranjilla, Tamarillo, Sauco Berries, Ulupica Pepper, Lacayote squash, Congona, Jaltomata, wild Tomatoes, Passiflora and a large selection of heirloom tubers- Ajipa, Oca, Ulluco, Achira, Mashua, Mauka, Arracacha, Yacon, Maca.
 Plants of California – a focus on forgotten feral foods like Brodiaea, Calochortus, Triteleia, Lilium, Yampah, Chia, plus medicinals and endemic rarities.
 A diversity of wild crafted seed from South Africa, China, Himalayas & other remote regions… rock garden & alpine miniatures…and much more!
Books– Hard to find titles on ecological horticulture and ethnobotany.
Please send $2 ($4 international) to receive our fully illustrated, highly informative catalog and additional supplements.
Seed deliveries anywhere in the world.
Sacred Succulents, PO Box 781, Sebastopol, CA 95473 USA
Email: sacredsucculents@hushmail.com
Please note: We do not have a mobile device and often only check our emails in the morning Monday through Friday,
so if you don't get an immediate response from us–do not fret! We will get back to you.
To receive our periodic (every 4-6 weeks) emails listing new plants & seeds, specials, news from our gardens, greenhouses & travels sign up at –
http://lists.sonic.net/ mailman/listinfo/ sacredsucculents
Rare Plant and Seed List
Available by subscription. This is where you will find first offerings of exciting new plants that we have in quantities too small to list in our main catalog. One of a kind specimens, rarities and introductions from our travels, and other plants and seeds from the far reaches of our wondrous fertile planet. Something unique for everyone! Cacti including uncommon Trichocereus and Ariocarpus hybrids and specimens. Succulents such as rare Bursera, Commiphora and Boswellia. Obscure medicinal herbs, unusual perennial foodcrops from around the world and selections from our Andean accessions. A fully descriptive list. A must for any serious plant collector, herbal horticulturalist and permaculture enthusiast.
4 issues $5 ($10 outside USA), 8 issues $8 ($16 outside USA)
Grafting Guide
Grafting of a slower growing species onto a faster growing stock increases plant growth significantly. It is a viable means of quickly producing mature specimens for seed production and vegetative propagation. This illustrated guide covers all aspects of grafting, from week old seedlings to mature specimens. Includes tricks we have learned over the years that help make this valuable conservation technique accessible and practical. Focuses mainly on Cactaceae but coverage is given to Euphorbiaceae, Apocynaceae and other succulent families. $9.00 postage paid USA, add $6 postage foreign
Public Domain Pledge
An important terms of business note to all our customers:
In order to be in line with our mission to support the preservation of botanical biodiversity, following the lead of J.L. Hudson Seeds and in recognition that the biodiversity of the Earth is the common heritage of all life, all of our seed and plant offerings are now Public Domain. This means that all plants and seeds are supplied solely under the following conditions: We expressly prohibit the use of any seeds or plants supplied by us, or their progeny, in any form of genetic engineering, breeding, or research which will result in any form of life patent, variety protection, trademarks, breeder's rights or any form of intellectual property applied to living things which would compromise the Public Domain status of the seeds, plants, their progeny and any genetic material therein. We expressly prohibit the transfer to any third party of any seeds, plants, their progeny or any portion of their genetic material without these prohibitions in place. Commercial propagation is encouraged, but in the unlikely event that large-scale commercial distribution is achieved, benefit-sharing along the path towards the source, in accordance with the spirit of the International Convention on Biological Diversity, will be undertaken. Thank you for your understanding and support!
We believe the biological diversity of the world is a common inheritance shared by all and the right to having a personal individual relationship with the myriad life forms of the planet is intrinsic to that. It is the very fibers that weave us.
((((((((( Plant seeds. Plant lots of seeds. Plant them without fear. Plant them with love. )))))))))
"We must look for help not so much to the stamen counters as to the plants themselves." – Luther Burbank
 "The greatest service which can be rendered any country is to add a useful plant to its culture" – Thomas Jefferson
GIFT CERTIFICATES are available for any amount, please inquire
---
Specimen Plant, Book, and Product Sale
USA customers only. Most of these plants are one-of-a-kind and have been in our collection for many years. This is a one time offer for most of these plants–they will not be available again! If you are interested in purchasing a plant please email first to confirm availability- sacredsucculents@hushmail.com – please provide your full mailing address in the email.
Shipping and Handling for Specimen Plants
First class priority mail = $7.50 for the first plant $2 each additional plant. Express mail = Inquire for current costs
*Plants marked with a single asterisk are large, heavy and have special shipping charges = $15.00 for the first plant $2 each additional plant.
**Plants marked with double asterisk are extra large and/or heavy. We charge you the actual USPS postage cost plus an $6 handling fee on the total order. Please note: Shipping costs for these will be significant for folks in eastern states (for example a 36″ Trichocereus sent to the East Coast would be around $40+ shipping but less than half that for the West Coast). You may inquire the approximate shipping cost by emailing us your zipcode.
Shipping for Books & Products
To determine shipping costs, add up the number of lbs in parentheses ( ) that is listed with each item
Priority Mail- add $7.50 for the first lb, $2.25 for each additional lb
When ordered with plants just add $2.25 for each lb
Books only sent Media Mail – add $4 for the first lb, $0.75 for each additional lb
Please email us for international shipping costs for books/products; sacredsucculents@hushmail.com
California residents add 7.25% sales tax. Sonoma county residents 8.25%.
Cactaceae
Ariocarpus fissuratus Graft "Hikuli Sunami"
The famous living rock cactus. Flattened stem, grayish to brownish green triangular tubercles with a deeply wrinkled surface and wooly central grooves. Magenta flowers. Southern Texas and northern Mexico. Once utilized by the Tarahumara for its medicinal properties. It was used externally for wound healing and internally to remedy fevers and relieve rheumatic pain. Pieces of tubercles were chewed by long distance runners for their stimulant properties. This beautiful cactus is believed to bring protection and good luck. Sadly, plants are still being illegally collected out of south Texas for the nursery trade.
6+ diameter cluster of 8 heads, each 2–2.5″ diameter on Stenocereus stock $115* SOLD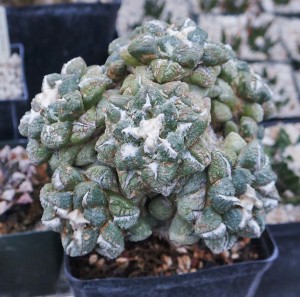 Ariocarpus retusus v. furfuraceus
An A. retusus form from northern Mexico with shorter, more rounded tubercles and larger fuzzy areoles. Large white flowers that turn to pink as they fade.
3.5″+ plant 15 years old $40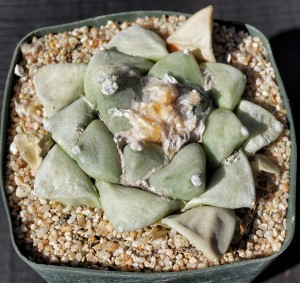 Ariocarpus trigonus "Chaute"
Bizarre species with dark green claw-like tubercles which curve towards the center of the plant. Bright yellow flowers. Occurs along the eastern edge of the Sierra Madre Oriental and on into some of the nearby valleys. Natural hybrids with A. retusus are known to occur. Z10a
3″+ plant 10+ years old $46
Borzicactus plagiostoma (=B. samnensis or Cleistocactus plagiostoma, Trichocereus peruvianus v. trujilloensis)
Shrubby columnar cactus to 5'+. Diamond shaped tuberculate ribs with dark green skin. 1″ grey spines. Bright pink tubular flowers and 2″ yellow fruit with a sweet white edible pulp. Native to northern Peru. The seed came from …otj back in 1993 as Trichocereus peruvianus v. trujilloensis! A really gorgeous species. Z9a/b
10″+ cutting $20*
30″ cutting $46**
Eulychnia castanea f. monstrosus 'varispiralis'
Molten to spiraling bright green stems, yellowish spines. A very cool mutation of this columnar species from coastal Chile. Z9b
5″ rooted cutting $45
Puna bonnieae
Small geophytic cactus, clusters of gray-green round stems to 1″ arising from tuberous roots. Tiny red brown spines hug the body of the plant. Large pink flowers. This charming opuntiod, which resembles a cluster of miniature soccer balls, was first discovered in 1990 above 6,000′ near Loro Huasi, Tinogasta, Catamarca, Argentina. Well draining soil and seems to be frost tolerant if kept moderately dry. Quite rare in captivity. Z8b/9a
1.5″+ plant with 8 heads $26
Maihueniopsis sp. BK10511.6
Low growing clusters of rounded 1″ stems to 18″ across. A few flattened spines per areole. Less spiny and more diminutive than Maihueniopsis boliviana we've observed around La Paz. No flowers present which may have helped an identification. Possibly Cumulopuntia. Growing on open slopes below Puya raimondii populations, Cordillera de Vacas, Cochabamba, Bolivia, 13,100′. Z7?
2″+ plant 4+ years old $22.50
Tephrocactus articulatus
Segmented clusters of egg-shaped grayish stems. Very cool, large, flattened spines, reddish glochids. Pale pink blossoms. Argentina. Z8 if dry.
7″+ plant $14
Trichocereus bridgesii 'Lotusland' "Melted Wax Cactus"
A great clone from Lotusland Garden in Santa Barbara, CA. Often grows monstrose stems with a melted wax look.
10″ plant $24 sold
Trichocereus bridgesii 'Reynolds' "Achuma"
Spiny blue heirloom clone collected by the late cactus enthusiast D. Reynolds in the 1960s when he was just 12 years old! He found it growing in front of a motel along El Camino Real, then a small road, in Mountian View, CA. Dave had a massive candelabra of this plant growing at his house when we met him, sadly after his passing his family had the plant cut and taken to the dump. Thankfully Dave gave us cuttings and we offer them here in his memory.
2 ~ 12–14″ cuttings $26* each
Trichocereus bridgesii f. monstrosus Clone A "Achuma"
Virtually spineless. Smooth blue-green stems with 2–4 indistinct ribs. Occasionally produces large yellow spines up to 3″ long. Plants eventually form candelabra like stands. Individual stems can grow to be remarkably phallic and this clone is referred to as the "penis cactus."
24″ cutting $48**
Trichocereus bridgesii f. cristata
Mostly spineless blue-green tissue sometimes resembling a cresting wave. Larger plants than we normally offer.
7.5″ plant $75 SOLD
Trichocereus camarguensis f. cristata
Thin fans of cristate growth eventually convolute into coral or brain-like clusters. Numerous small white and golden yellow spines obscure the body of the plant and give it an angelic fuzzy look (for those of you who prefer your angels fuzzy!) Rare crested form of this attractive clumping species in the T. huascha complex from near Camargo, Argentina. Rooted cuts. Z9a
3″ plant $18.50
Trichocereus pachanoi 'Huancabamba' "Huachuma" "San Pedro"
Typical "wild" T. pachanoi, upright rounded green stems, smallish spines, white flowers. Seed from Huancabamba, northern Peru, a region long famous for its huachumeros (shamans). Widely cultivated in the area and likely represents part of the natural distribution of the species. Z9a/b
12″ cutting $26* SOLD
Trichocereus pachanoi f. cristata/monstrosus
12″ wide 15″ tall plant with some scarring $36**
Trichocereus pachanoi f. cristata/monstrosus BK14518.5
Open pollinated seedling from Parque de las Leyendas, Lima, Peru.
3.5″ crest turning into 5 monstrose heads 3 years old $32 SOLD
Trichocereus pachanoi f. monstrosus X Trichocereus sp. SS02
This hybrid has a high percentage of monstrose and cristate seedlings. Here we offer a unique seed grown plant with unique monstrose traits.
5 year old plant with 17″ central stem with 4 smaller stems 4–7″+ and additional tiny monstrose offsets — SOLD
Trichocereus aff. pachanoi BK10508.1 "San Pedro"
Upright columns to 10'+, small spines. Common clone around Cochabamba City, Bolivia. Looks distinct from the T. pachanoi of Peru/Ecuador, though local botanists refer to it as T. pachanoi. Possibly brought to the region during the Incan colonisation of the area in the 1400s. Our collection from the base of Cerro San Pedro, about 1 mile from the Martin Cardenas Botanical Garden, near 8,500′. Z9a
12″ rooted cut $38*
Trichocereus peruvianus BK08612.4 "Pichu" "San Pedro Macho"
Fat blue-green stems to 6″+ in diameter. New spines red to yellow, to 3″ long. Often growing prostrate or descending. White flowers, sweet fruit. Usually growing with Peperomia galioides, Mutisia sp., and Echeveria as companions. Above the town of Matucana, near 8,600′, Lima Dept., Peru. Z9a
6″+ cutting $26
Trichocereus peruvianus BK08612.9 "Pichu" "San Pedro Macho"
Our seed collection, growing on the arid, steep mountainside by the town of Surco, Huarichiri, Lima Dept., Peru, around 8,000′. Blue, serpent like specimens growing over rocks and down the mountain. Z9a
6″+ cutting $28
Trichocereus peruvianus v. cuzcoensis (=Trichocereus cuzcoensis) "Hawaq'ollay"
An underappreciated spiny peruvianoid with glaucus-blue upright stems to 15′ + and gorgeous spines to 2.5″+. Inter-Andean valleys of Cusco Dept., Peru. Considered a "San Pedro" and utilized as medicine since antiquity. Sections of de-spined stems can still be found for sale at the outdoor Cusco market for use as a famous shampoo said to treat baldness, as a contraceptive and remedy for burns, headaches, fevers, swellings, flu. Specimens listed below. Z8a–9a
All of the following are flowering size specimens in 5 gallon pots unless noted otherwise.
***These are available for pick up-by appointment – at our home in Occidental. Please email to reserve plants and arrange pick up.  sacredsucculents@hushmail.com
For those further away, we will consider shipping, but the plants will need to be cut into smaller sizes- email for shipping quotes.
A – one 60″ stem, one 54″ stem and one 36″+ stem. $120*** SOLD
B – four 24–28″ stems. This clone has a larger number of spines per areole giving it a shaggy appearance. $86***
D- one 66″+ stem, leaning a little, small pup halfway, long spines. $64***
E- one 60″ stem, one 38″ stem and one 26″ stem, very long, stout spines $105***
F- 10 gallon pot. One 42″ stem, one 36″ stem, two 28″ stems, one 15″ stem + several pups. More slender clone with yellow spines. $88***
G- one 36″ stem, four 24–26″ stems, two 6–9″ stems. Nice uniform, yellowish spines. $115***
I- 10 gallon pot. One 36″ stem, one 30″ stem, two 12–16″ stumps with several pups, some scarring on stems. $45***
Trichocereus peruvianus X Trichocereus sp. 'Juul's Giant' hybrid f. cristata
In 1996 we planted over 1000 seed of this great hybrid. One seedling turned out to be a real jewel, producing beautful thick fans of cristate growth.
6″+ rooted cutting $28
Trichocereus knuthianus (=Trichocereus peruvianus v. knuthianus, SS03 )
Graceful upright columns to 16′ or more. Dark green stems up to 6″ in diameter. Spines to 2″ long. White nocturnal flowers, edible fruit. A desirable rare and beautiful plant from northern Peru that is closely allied with T. peruvianus . Z9a
10 gallon pot, 18″ branched stump with one 36″ stem, another 36″ stem with 3 terminal pups, one 14″ stem and one 16″ stem. $100***
 ***Available for pick up-by appointment – at our home in Occidental. Please email to reserve plants and arrange pick up.
For those further away, we will consider shipping, but the plants will need to be cut into smaller sizes- email for shipping quotes.
Trichocereus riomizquensis BK10508.7 "Achuma"
First offering of seedlings–short to long spined. The mother formed upright stands to 8'+ tall. 2–5″ diameter stems with blue-green to yellow-green epidermis. Spines to 3″ long. Planted around the town of Totora, Cochabamba Dept., Bolivia, 9,000′. Local women call it "achuma" and use it externally to treat fever. No one knew where it grew wild. We searched where Ritter first described the plant at Chujllas, and along the Rio Mizque, adjacent valleys and slopes, but never found a single wild plant, only herds of feral goats. Z9a
2 ~ 10–14″+ plants 5 years old $32* each
Trichocereus scopulicola
Upright stands to 15′ tall. Dark green stems with 5–8 ribs and tiny spines. White night blooming flowers, edible fruit. A rare species that is similar to T. bridgesii and T. pachanoi. Endemic to the rocky dry forests of Tarija, Bolivia. Z9a
12″ cutting $26*
Trichocereus scopulicola X Trichocereus bridgesii
Great hybrid, favors the morphology of T. scopulicola, dark green stems, small to medium spines, has shown some sign of future monstrose growth.
6″+ cutting $24
Trichocereus shaferi f. monstrosus
Dark green nearly spineless mutated stems 6″ or more in diameter and up to 3'+ tall. The few indistinct ribs are contorted and molten in appearance. Very occasionally produces cristate growth. This extreme oddity is a living sculpture. Overwatering causes the stems to split, but is not fatal. Z9a
5″+ rooted cutting $24
Trichocereus tacaquirensis?
4–6″ thick dark-green stems to at least 10′ in height. 7–9 ribs with large felty areoles and numerous thick dark spines to 3″. White, night blooming flowers. An impressive cactus, very similar to T. taquimbalensis. Grows at 10,000', Tacaquira, Chuquisaca, Bolivia. Z9a
5″+ rooted cutting $18
Trichocereus tulhuayacensis KK337 X Trichocereus bridgesii
The peruvianoid, red/pink blossomed T. tulhuayacensis crossed with T. bridgesii. Fascinating progeny, one of our favorite hybrids. Thick dark green stems with almost tuberculate ribs. Robust dark spines. We are hopefull that the flowers will have some of the red coloration of the mother.
6″+ cutting $40
Trichocereus uyupampensis? BBG60.0450
Unique arborescent peruvianoid to 15'+. Olive green stems 3–4″ in diameter and 5–9 ribs. Spines 1–3″ long. White flowers. We got this plant from a Berkeley Botanical Garden sale many years ago but we question the name it came with since it does not fit Backeberg's description for the species. Z9a
12″+ cutting $24*
Trichocereus validus
Tree like cactus. Dark green stems up to 8″ or more in diameter with 8–10 ribs. Large felty areoles with 7–10 radial spines and 1–2 central spines up to 3″ long. White nocturnal flowers. Southern Bolivia. An impressive plant, slow growing and rare in cultivation. Fat cutting. Z8b
6″ cutting $24*
Trichocereus sp. BK08601.1 "Hawakolla"
Arborescent species to to 15'+ tall. Regular branching up high on the thick dark green stems, 6″+ diameter. Strongly notched areoles. Numerous spines, up to 2″. White flowers. A huge stand, growing almost down to the water, north side Isla del Sol, Bolivia, 12,500′. Had signs of regular harvesting. The Aymara shaman Lucio told us it can be used like achuma, but is different in effect. Another local told us a slice of stem is placed on the outside of the cheek for toothache and that Argentinian tourists think it will get them "drunk". Looks similar to the cultivated 'Kimura's Spiny Giant'. First offering. Z8b?
6″+ cutting $32 SOLD
Trichocereus sp. BK09508.2 "San Pedro de Chavin"
Dark green epidermis. 5–7 central spines, the downward facing ones up to 1.5″ long. 1 central spine 1.5–2.5″+ long. New spines yellow to red-brown in color. Stems 3.5–4″ diameter. Large stand to over 12′ tall. Covered in Tillandsia. Growing with Dodonaea viscosa, Kageneckia lanceolata, Satureja elliptica, Alonsoa sp., Berberis sp., Browellia multiflora, Bomarea sp, and Peperomia galioides. Growing at the edge of what looks like ruins or perhaps an old chacra wall, above the 3 crosses, on the western mountain above the ruins of Chavin to the north side of the Wachesca River, 11,050′. First offering of this clone. Z9a
6″+ cutting $34
Trichocereus sp. 'Juul's Giant' X Trichocereus sp. SS01
Great hybrid with fat, upright stems, frosted blue-green skin and medium size spines.
10″ cutting $28* SOLD
Trichocereus sp. …otj
This plant came from Rob and Jane at the now defunct …of the jungle nursery. It was given to them as a "short spined bridgesii", which it certainly is not. Green to frosted bluish stems, 1/2 to 1" spines, amber or yellow at first, later turning gray. Looks like a pachanoi / peruvianus /macrogonus intermediate.
2 ~ 14–15″ cuts $25*each SOLD
Trichocereus sp. SS02 (=Trichocereus bridgesii)
Dense candelabra stands to 16′ tall. Blue-gray/green frosted stems up to 5″ in diameter with 5–7 ribs. Each areole bears 2–4 central spines up to 1.5″ long. White nocturnal flowers. The new growth on old stems is often spineless. A distinct form of Trichocereus bridgesii. Z9a
2 ~ 12–14″ cuttings $28* each
Trichocereus sp. SS02 X Trichocereus pachanoi
A favorite hybrid. Blue green stems with rounded ribs and medium spines.
12″ cut $26*
'Trichopsis sp.?'
An old hybrid from Ed Gay's collection-A cross between an unknown Trichocereus and Echinopsis. Dark green, upright clumping stems to 5'+ tall with 16+ ribs, numerous small stout spines. A lovely plant. Z9a
10″ rooted cutting $25*

Other Succulents and Xerophytes
 Beaucarnea sanctomariana "Santa Maria Ponytail Palm"
Agavaceae. Branching caudiciform tree 12–24′ tall. The conical swollen trunk can reach 5′ across and has thick brown-gray bark with a rectangular to polyhedral pattern. The elongated slender branches are crowned with spherical rosettes of recurved, bright green, grass like leaves to 2.5′ long. Branched inflorescence to 3′ with many small cream-yellow flowers. This newly described endangered species is a microendemic of rocky outcrops in the deciduous dry forest of the Isthmus of Tehuantepec, Oaxaca, Mexico. Z10a
12″+ plant with 2.5″+ caudex 3+ years old $26
Boswellia dioscoridis "Samani" "Frankincense"
Burseraceae. Aromatic, deciduous small tree 10–20′ tall. Swollen trunk and branches, flaking silvery bark. Green to bluish imparipinnate leaves densely crowded at the branch ends. New growth is red-bronze. Clusters of small cream colored flowers. Endemic to the limestone escarpment dry forests of western central Socotra. The dried resin is much esteemed and used ceremonially in Socotra. Soil with 50–75% pumice, bright light, heat and a winter rest are needed to keep this plant thriving. Great for bonsai. 10b
17″+ plant $58* SOLD
Boswellia sacra (= Boswellia carteri) "Frankincense"
Small tree to 25′ with pinnately compound leaves and racemes of small white pink flowers. Usually found growing in extremely rocky areas where it sometimes develops a bizarre disc like swelling at the base of the trunk. Native to north eastern Africa and the Arabian peninsula. Dried sap from the tree is an ancient incense widely revered since the dawn of civilization, often in combination with myrrh. At one time worth more than its weight in gold! It has a powerfully rich fragrance. Used medicinally as a cure all, it has very strong anti-inflammatory, antiseptic, antibacterial and antifungal properties. Very rare in cultivation, but fairly easy to grow. It prefers a deep pot and soil with at least 50% pumice stone for its thickened edible roots. Grow like Bursera. Z10a
8″+ multibranched plant SOLD
Boswellia serrata "Indian Frankincense" "Salai"
Deciduous tree 15–35'+ tall, thickened stems and peeling bark. Pinnate leaves with serrate margins. Native to the dry tropical forests of India and Pakistan. A highly important medicinal and sacred aromatic incense, similar to African Frankincense, B. sacra. Exceedingly scarce in cultivation. Z10b
3″+ plant $55 SOLD
Bursera microphylla "Copal Oro" "Torote Blanco" "Xoop"
Shrub or low branched tree with thick contorted trunks. Young branches are red-brown, bark of older limbs turns whitish yellow, peeling in papery flakes. Thin pinnate leaves. Intoxicatingly aromatic sap, known to squirt from the branches when handled during hot weather. Many medicinal uses, twig tea being a particularly effective disinfectant. Specimen size plants available, rooted cuts. Z9b
1 ~ 30″+ tall multibranched plant with 1/4″ trunk $44*
1 ~ 36″+ tall multibranched plant with 1/2″ trunk $54** SOLD
Bursera filicifolia "Torote" "Copal"
Small upright tree with thick pachycaul trunk. Smooth grey bark. Light green pinnately compound leaves, pleasantly pubescent. Drought deciduous. Endemic to southern Baja. Many medicinal uses like other Bursera. The sap from this species has the finest aroma of any of the Baja Copals, sweet and balsamy. We grew a handful from seed years ago that have been kept "bonsaid" by loving neglect in small pots and have decided to part with one. Z10a/b
1 ~ 48″+ tall multibranched plant with 1.5″+ trunk 18 years old $120** SOLD
Bursera hindsiana "Copalquin" "Torote Prieto" "Xoop Inl"
Shrub to small multi-trunked tree. Fat trunks with beautiful smooth red to grayish bark, velvety trifoliate leaves. Native to the rocky hills and slopes of Sonora and much of Baja. Sacred to the Seri who believe it to be the first plant created. The bark is used medicinally for congestion and as an antiseptic. The sap has a wonderful sweet balsam scent, one of the best copals of Baja. Seri shamans utilized the wood for carving special fetishes ("santos") used in vision quests and for curing and protective purposes. Edible seeds and fruit. Grow as other Bursera. Z9b/10a
48″+ plant with 1.5″+ trunk 16 years old $68** SOLD
Bursera silviae "Mulato Verde" "Copal"
New species. Small tree to 20′. Minimally peeling green to yellowish bark, leaves made up of 3–7 oblong leaflets. The sap is intensely aromatic. Recently described from coastal Oaxaca, Mexico. Related to B. fagaroides. New to cultivation. Z10a
1  ~ 20″+ plant with 1/2″ trunk 6 years old $45
1 ~  Plant with 2 trunks- one 18″ and one 24″ 6 years old $52* SOLD
Bursera vazquezyanesii BLM1605 "Copal"
Small tree to 15′. Thickened trunks with orangish peeling bark. Attractive imparipinnate leaves, new growth a bronze color. Aromatic sap. Very rare species from Jalisco, Mexico. Rooted cutting. Z10a
8″ tall branched plant $52 SOLD
Commiphora africana "Gum Bdellium" "Mothapo"
Deciduous shrub to small tree with gray flaking bark, trifoliate leaves, and small red flowers. An African species, similar to Myrrh, the aromatic resin is used to treat fevers, cramps, snake bite, and as an insecticide. Edible roots. Diamphidia beetle larva live at the roots of the plant and are used by the San to prepare a powerful arrow poison. Z10a
24″+ tree $42*
Commiphora schimperi "Seroka" "Osilalei" "Myrrh"
Burseraceae. Deciduous bush to small tree. Green bark that peels in yellow flakes. Densely arranged clusters of small trifoliate leaves adorn the spined branches. Small red flowers. Aromatic sap an official source for Myrrh resin. Native to dry areas of east Africa, from north to south. Elephant food. Used by the Maasai in antimalaria preparations and the young roots eaten for their sweet flavor. Sticks are considered excellent firestarters. Z10a.
6″+ plant with 2 branches $25 SOLD
Ephedra rupestris BK08520.8
Leafless ground hugging plant under 1/2 "tall. Jointed stems to 1". Small red berries. Growing on rocks at over 14,000′, Cusco Dept., Peru. A wonderful dwarf plant. Z6/7?
6″ plant 5 years old $24
Plant in habitat
Hechtia sp. 'Colima'
Bromeliaceae. Dark green to purple-brown rosettes of recurved leaves with silver flecking. Yellow marginal thorns. Flowers not yet seen. Seed from Colima, Mexico. Z9b/10a?
12″ diameter plant 4+ years old $34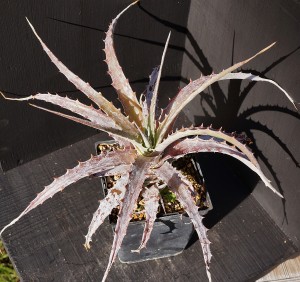 Hechtia sp. 'El Mate'
Bright lime-green to brownish rosettes of recurved leaves with silvery undersides. Flowers not yet seen. Seed from El Mate, Mexico. Z9b/10a?
12″ diameter plant 4+ years old $32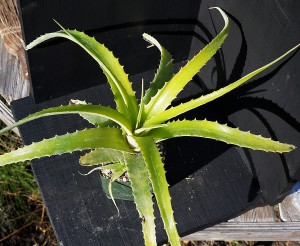 Ochagavia elegans "Ajo Dulcie"
Bromeliaceae. Handsome small rosettes of green to silvery pointed leaves. Compact cluster of dark pink flowers in the center of the rosette followed by sweet edible fruit that looks like a garlic bulb, hence the local name "ajo dulcie". This pineapple relative is endemic solely to Robinson Crusoe Island. Here it forms large dense colonies on rocks and sheer cliff faces. New to cultivation. An awesome rarity that will make a unique edible ornamental for the adventurous grower. Z8b/9a?
8″+ plant 4–5 years old $36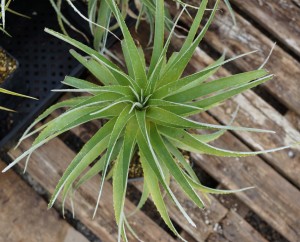 Peperomia congesta GP2111
Awesome columnar species that forms candelabra stands of finger wide stems to 20″+ tall. Thick ovate succulent leaves with windowed upper surface densely arranged along the stems. Large terminal inflorescence with whorls of compact yellow-green flower spikes. Pino collection northern Peru. This is a very distinct and unusual xerophytic species which as far as we can ascertain is new to cultivation. Several tropical species in the nursery trade are erroneously distributed under this name. Z9b/10a
6″+ plant with 2 stems $24.50
Peperomia mitoensis Samain et al 2010-075
Succulent mounds to 12″ across and 6–10″ high made up of many 1–3″ rosettes. Beautiful light glaucus green leaves with a dark green convex windowed upper surface. Pale green flower spikes 6–10″+ tall. Awesome, recently described species from the Rio Mito, Huanuco, Peru, 73750′. New introduction, very first time offered! Bright light for compact growth. Rooted cuts, this clone is the type species. Z9b?
2 ~ Plants $17.50 each
Puya herzogii BK10511.5
Bromeliaceae. Clusters of 2–3′ rosettes of grey serrated leaves. Large club like inflorescence to 6–8′ tall, flowering bracts covered in a white and grey fuzz, yellow green flowers with bright orange pollen. The impressive flower stalk makes this one of our favorite species. Growing amongst Puya raimondii, near Rodeo, Cochabamba Dept., Bolivia, 13,300′. Z7/8?
12″+ plant 5+ years old $32*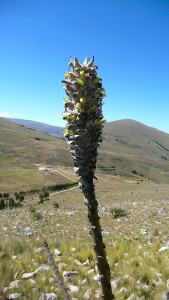 Flower in habitat
Sceletium emarcidum "Kanna" "Kougoed"
Aizoaceae. Pairs of pale green succulent leaves on a small creeping groundcover. White flowers. Has the same medicinal/antidepressant use as the more common S. tortuosum. Z9b
8″+ diameter plant 5+ years old  $34 SOLD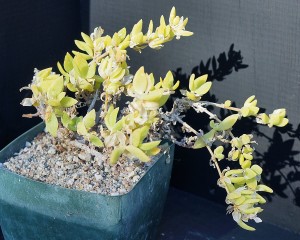 Sceletium tortuosum "Kougoed" "Kanna"
Small sprawling shrub with flat, pale green leaves. Shiny white flowers. The San and Khoi people of South Africa have a long history of using the plant as a hunger and thirst suppressant, analgesic, treatment for colic, and most importantly as a highly esteemed inebrient. The traditional manner of preparation is as follows: The whole plant is crushed between rocks, then placed in a bag and put in the sun to sweat. After a week of "fermenting" the "Kougoed" is removed from the bag and spread out to dry completely. Sceletium is known to contain potentially harmful amounts of oxalic acids which the preparation process is thought to reduce. The prepared dried material is chewed, smoked or occasionally taken as a tea or snuff. The effects are reported as quite pleasant and relaxing, decreasing anxiety, stress and tension. No severe adverse effects have been reported, even from chronic use of the plant. In fact, indigenous healers are known to use "Kougoed" to successfully treat alcoholism. Recent pharmacological research has shown Sceletium to be highly complex chemically, with as many as 9 alkaloids that are found to fluctuate seasonally. Modern science is looking at the anxiolytic and antidepressant properties of Sceletium alkaloids as well as their potential anti-cancer activity. Sceletium is now being marketed as a highly effective and safe natural supplement to elevate and regulate mood. Plant gatherers have observed that wild populations of S. tortuosum are becoming increasingly scarce, likely due to over collection. Protection through cultivation is encouraged. Z9a
#1 – 8″+ rooted plant $25
#2 – 8″+ rooted plant $25
Senecio aff. bombycophole
Asteraceae. Small pachycaul tree with swollen silver-grey trunks. Branches tipped with maple-like leaves covered in a silver-white fuzz. Clusters of yellow flowers. Drought deciduous. Seed from near Huitzeltipec, Puebla, Mexico. A beautiful plant, grow alongside and similar to Bursera. Z9b/10a
6″+ plant $16.50
Andean Ethnobotanicals
Anadenanthera colubrina v. cebil? BK151013.8 "Vilca"
Fabaceae. Nitrogen fixing tree 20–40'+ tall. Attractive oak-like bark, develops bizarre knobby protrusions on some older specimens. Feathery pinnate leaves. Cream colored spherical inflorescence. Flat seedpods 5–10″ long, large, round and shiny brown seed. The lowest elevation accession we made, near 2000′, Calilegua, Jujuy, Argentina. Abundant tree in this fairly lush Yungas forest. This population may intergrade with A. colubrina v. colubrina or even A. peregrina. Once one of the most important religious plants throughout the Andes. The earliest evidence of religious plant use in the Americas is 4000 year old Anadenanthera seed found with puma bone pipes in northern Jujuy, Argentina. The seeds are used today in offerings, as an external head wash for headache, and reportedly as an abortificent. The astringent bark is used for the lungs and wound healing. A valued timber tree, the wood is very hard and dense with a beautiful reddish color. A leaf infusion is said to "bring about a period of fervor in cows"…which we'll leave to your imagination. Sun, well draining soil. Drought tolerant. 10a
11″+ treelet 1 year old $32 SOLD
Anadenanthera colubrina? BK151013.9 "Vilca"
Another Calilegua accession from near 2200′. These were very tall trees to 35'+ and seemed closest to A. colubrina v. colubrina or A. peregrina. Z10a
16″+ treelet 1 year old $36* SOLD
Blechnum cycadifolium "Juan Fernandez Tree Fern"
Blechnaceae. A gorgeous tree fern with a thick erect trunk to 6'+. Crowned with a rosette of stiff cycad-like leaves. Endemic to Robinson Crusoe and Alejandro Selkirk Islands where it can form dense, otherworldly forests. Needs a moist, rich, well draining soil. Larger plants than we usually offer. Z9a?
2 ~ Treelets 4–5 years old ready for a 3 gallon pot $44.50 each
Blechnum sp. BK10512.10
Unusual and distinct fern with a rosette of thick compound leaves on a small trunk to about 12″ tall, like a miniature cycad. New growth is a magenta to pink-bronze color. Polylepis lanata forest understory and edges. Above Rio Lope Mendoza, Cochabamba Dept., Bolivia. This beautiful fern has been slow growing from spores, we finally have a few up to size that we can offer for the first time. Z8/9?
5″+ plant 3–4 years old $24.50
Ceratostema alatum "Joyapa"
Ericaceae. Shrub to 3'+ that may eventually form a caudiciform lignotuber. Glossy elliptic leaves, new growth is bronze to bright red. Clusters of pendulous tubular flowers with reflexed tips, a startling deep crimson color. Reddish edible berries. Another amazing Andean blueberry relative native to the cloud forests of Columbia and Ecuador. A decoction of the plant is drunk for the nerves. Rooted cuttings. Z9a/b
2 ~ Plants $24.50 each
Ceratostema lanigerum HBG994812
Epiphytic shrub with liana-like branches 4–10′ long. Triangular cordate leaves. The leaves and stems are covered in small white hairs. Clusters of 3–7 flowers of deep red with blue-black recurved petals. A rare endemic from riverine forests of Pastaza and Morona-Santiago, Ecuador, 2600–5300'+. Z10a
2 ~ Plants $34.50 each
Desfontainia spinosa "Taique" "Borrachero"
Desfontainiaceae. Highly ornamental evergreen shrub. Holly-like leaves, 1″ tubular red flowers with yellow tips, yellow-green fruits. Rare throughout its range from the Columbian Andes south to Chile. Considered a monotypic species with a family all its own. Used as an ethnomedicinal inebrient, possibly a delirient entheogen. The chemistry is poorly understood. Easy to grow, in full sun it stays a bush to 6′, in part shade it can reach 15′ or more. Well drained rich acid soil. Drought tolerant once established, but prefers ample water. Here we offer a lovely flowering size specimen plant of a Chilean clone. Z8b
48″+ multibranched specimen plant $78** 
Disterigma? BK14514.13
Ericaceae. Shrub 2–3′. Small round coriaceous leaves hug the slender upright stems. New growth is bronze. Froms potato size lignotubers/caudex. Flowers not yet seen. Growing amongst Hesperomeles, Elaphoglossum, and Baccharis species, cloudforest above Choquequirao, Cusco, Peru, 10,500′. Rooted cuttings. First introduction of this beautiful blueberry. Z8/9?
Plant $36.50
Disterigma rimbachii HBG95935
Larger plants than we usually offer. Beautiful multibranched shrub to 1–2′. Small, spirally arranged, oval leaves clothe the stems. New growth is deep red. Rose-pink tubular flowers borne along the stems. Light indigo-purple berries, sweet and juicy. Endemic to the low mountain forests and cloudforests of Ecuador from 2500–10,700′. Z9b?
12″+ multi-branched plants $38.50 SOLD
Escallonia resinosa BK10509.4 "Chachacomo"
Saxifragaceae or Escalloniaceae. Tree to 20'+, forms a thickened gnarled trunk with age. Smaller leaves than E. resinosa we've seen in Peru. Spires of sweetly scented white flowers adorn the branch ends. Growing near the ruins of Inkallajata, Cochabamba Dept., Bolivia, 10,000′. A decoction of the plant is used as a cerebral tonic and carminative. A cataplasm of the wood is used to alleviate arthritis and rheumatism. The hardwood is used in construction and in Cusco the young shoots are woven into baskets for storing potatoes. The leaves produce a reddish to purple dye. In southern Peru this tree is the host plant for the butterfly Metardaris cosinga whose chrysalis (known as "huaytampu" ) is considered a delectable food. Chachacomo is another keystone species of the mostly extinct high Andean forests, occurs up to 13,000'+. This wonderful tree should be widely planted. Z8a?
2 ~ 24″+ trees 4+ years old $28.50* each
Macleania glabra X Macleania coccoloboides
Ericaceae. Very first offering of this exciting hybrid! M. glabra has a large caudex to 3′, arching stems, magenta flowers. M. coccoloboides has a woody caudex, upright stems to 15′, clusters of red flowers, dark purplish fruit. Z9a/b
8″+ plant with 1/3″+ caudex, 2 years old $40
Macleania insignis 'Seedling'
Forms a woody caudex to 2'+. Arching branches, new growth is bronze to bright red. Showy clusters of bright orange-red tubular flowers with yellowish tips and edible berries. Cloudforests of Central America. Z9b
14″+ plant with a fat 2″+ caudex, 4-5 years old $42 SOLD
Macleania pentaptera "Hualicon"
Woody caudiciform with upright branches 3–7'+. Shiny dark green ovate leaves, densely arranged along the stems and deeply cordate. Clusters of red-orange, pentagonal tubular flowers with green and white tips. Clear whitish berries, very sweet and tasty. Endemic to the forests of Pinchicha, Los Rios and Cotopaxi, Ecuador between 500–7000′. A gorgeous plant, one of the more tropical species. Rooted cutting. Z9b/10a
14″+ plant $38.50
Rosaceae. Gorgeous small tree to 15'+ with peeling reddish bark and often gnarled twisted trunks. Pinnate leaves with 5–7 blue-green leaflets. The southernmost species of this Andean genus, occuring all the way into the Cordoba mountains of central Argentina. A keystone species of the high Andean forests which are the most endangered forest ecosystem in the world. This particular species is threatened in habitat by a pathogenic fungus, climate change and lots of cows. Polylepis are used medicinally for lung issues. They are quite adaptable to low elevation cultivation and are truly beautiful trees of unrealized horticultural merit. Z6/7a?
24″+ plant 4–5 years old $42*
Polylepis tomentella ssp. incanoides BK10509.20 "Kewiña"
Upright multi-branching trees 15–30'+. Contorted trunks, dark-red peeling bark, deep green leaves, dangling clusters of yellow-green flowers. This beautiful subspecies is endemic to central and southern Bolivia, favoring a slightly warmer/dryer climate than other species. Seed collected between Monte Puncu and Totora, Cochabamba, Bolivia, 9,500′. Growing with Berberis, Baccharis, bunchgrasses, Trichocereus totorensis and Cleistocactus. Restricted to arroyos primarily due to agricultural activity and overgrazing. Though there were a good number of large trees and bird diversity was quite high, these forests felt in transition, the mark of man and his beasts heavy. An Andean genus of 26 species, Polylepis forests once covered over 20% of the Andes up to 17,000'+. These forests were slowly cleared over millennia, massacred over the last 500 years and are now reduced to almost nothing. Polylepis are amongst the most enchanting trees we have ever encountered, their contorted trunks and peeling bark, not to mention their rebellious nature; this is a tree that actually dares to grow above the treeline. Extremely hard wood excellent for construction and firewood, used medicinally for lung issues, bark chewed for oral health. Source of beige, pale pink and green dyes. Polylepis were sacred during Incan times and associated with the ancestors, forests were venerated and protected. Propagation and reforestation is essential for sustainable development in the Andes. Polylepis forests are known to harbor the highest biodiversity of any ecosystem in the high Andes. These trees are readily adaptable to lowland cultivation. Z7 or 8?
22″+ plant 6 years old $64* SOLD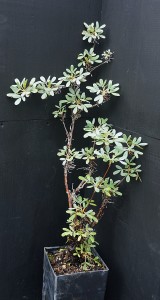 Trunk of plant in habitat
Saracha aff. punctata BK08524.5
Solanaceae. A staggeringly gorgeous plant and one of our most appealing seed collections in 2008. Tree 20–40+' with oval leaves and festooned in hundreds of 1″ bell flowers, pale lavender to dark purple with cream colored veination. 1/2″ round black fruit. Looks strangely like an arborescent belladonna! Planted at rural homesteads in the village of Huacahuasi, 12,500′, Cusco Dept., Peru, where it is grown as an ornamental. Since our initial collection we have also seen it planted above 13,000′ at Patacancha village and observed a few wild specimens growing in remnant forest along the Rio Trapiche above Lares. We are excited to offer it into cultivation for the very first time so it can take a place in the garden next to its other exotic arborescent solanaceous kin such as Brugmansia, Iochroma, Cestrum, etc. Easy to grow. Young plants only tolerate mild frost, mature specimens should be hardy below Z8b
24″+ plant 4 years old $32.50*
Satyria boliviana HBG90802
Ericaceae. Epiphytic shrub with pendent branches 2–6′ long. Lime-green, coriaceaus, lanceolate leaves, lightly pilose. New growth pink-bronze. Inflorescence covered in tiny soft white hairs, bearing up to 5 flowers with globose urn-shaped corollas, red with white tips. Edible berries high in antioxidants. This lovely rare and endangered Bolivian endemic is only known from a few collections, Yungas cloudforest, La Paz and Carrasco, Cochabamba, near 8000′. Rooted cuttings. First offering. Z9a/b?
2 ~ Plants $34.50 each
Sphyrospermum cf. buxifolium
Ericaceae. Terrestrial to epiphytic shrublet with slender ascendent or pendent branches 1–5'+ long. Rounded, semi-succulent, pale green leaves clothe the slender stems. New growth reddish to pink. Yellow-pink bell-shaped flowers and red edible berries. May be a new species. Andean cloudforests. Acid soil, filtered light. Truly lovely in hanging baskets. Rooted cutting. Z9b?
18″+ branched plant $25 SOLD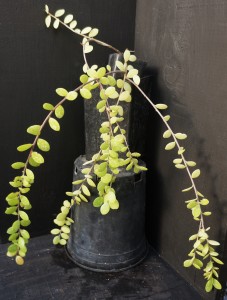 Zizyphus mistol BK151015.7 "Sacha Mistol" "Andean Jujube"
Rhamnaceae. Small xerophytic tree 15–30′ tall. Thick contorted trunks of dense hard wood and smooth to rough green-brown bark. Zigzagging branches with small thorns and simple leaves, drought deciduous. Clusters of little yellow flowers that exhale a very sweet perfume. Date-like red-brown edible fruit. Dry forest of southern Salta, Argentina, 4500′. In antiquity it was one of the most important food plants of the southern Andean dry forests along with Algarrobo (Prosopis spp.) and Chanar (Geoffroa decorticans). Many medicinal uses. A fine soap is made from the inner bark and dyes made from the bark and leaves. Should be very drought hardy. New to cultivation. Rooted cuttings from 2 clones. Z9b/10a?
2 ~ Plants $34.50 each
Edibles, Medicinals, etc.
---
Agapetes meiniana (=Paphia meiniana) "Misty Bells" "Oz Huckleberry"
Ericaceae. Semi-epiphytic shrub 3–6'+. Glossy green lanceolate leaves. New growth has an attractive pinkish tinge. Red tubular flowers and edible purple berries. Rare blueberry cousin native of the high altitudes of North Queensland, Australia. Grow like other Agapetes. Rooted cuttings. Z9a/b
2 ~ Plants $18.50 each
Ceratonia oreothauma DH07041 "Oman Carob" "Tiyu"
Fabaceae. Dioecious tree 15–25'+. Thick gray-brown fissured bark. Paripinnate leaves with smaller leaflets than C. siliqua. Yellowish flowers with reddish anthers/stigmas. 2–4″ long pods. Dylan Hannon seed collection, Jabal/Buni Habir, Oman, 5300′. Endemic to the eastern Al Hajar Mountains of Oman. Pods and foliage are used as goat fodder. Thought to be the wild ancestor of carob and may prove useful for breeding with standard Carob tree. Z10a?
14″+ treelet with 2 stems 3-4 years old $32 SOLD
BOOKS & PRODUCTS
Only 1 available of each of the following
(see below for shipping costs)

The Genus TURBINICARPUS in San Luis Potosi
by Grupo San Luis
Awesome, heavily illustrated, full color book on one of our favorite Mexican cactus genera! A must for the cactus enthusiast. This book is exceedingly hard to find and we ended up with an extra copy. Book in new condition.
Oversize softcover, color photos, 147 pages (2 lbs) – $68
ENDURING SEEDS: Native American Agriculture and Wild Plant Conservation
by Gary Paul Nabhan
Collection of richly written essays by this popular ethnobotanical activist. A must read regarding the loss of plant diversity and the essential role of indigenous agriculture in the Americas. Foreword by Wendell Berry. Book in new condition.
Softcover, 225 pages $18 (1 lb) (retail price $22)
IMPERFECT BALANCE: Landscape Transformations in the Precolumbian Americas
edited by David L. Lentz
An amazing collaborative effort detailing the extensive interactions and modifications of the vegetation and land by the precolumbian peoples of the Americas. An interdisciplinary work from experts in botany, paleoclimatology, ecology, and conservation management, that reveals the secret of how indigenous people heavily modified North and Central America, the Andes and Amazonia. Thoughtfully arranged with an overview of each regions botanical richness, coupled with case studies of human alterations to the vegetation, fauna, soil, hydrology, microclimate and land surface itself. Vital information on how we may be able to avoid the ecological mistakes of past cultures and begin to learn from their remarkably innovative relations to the land! Highly recommended. Out of print, this is our last as new copy. Retailed at $42!
Softcover, black & white photographs, 547 pages (3 lbs) sold
PERMACULTURE: Principles & Pathways Beyond Sustainability
by David Holmgren
This significant work by the co-originator of the Permaculture concept is essential reading for students of conservation biology, ethnobotany and anyone interested in the preservation and evolution of sustainable human culture. Holmgren shows how permaculture is much more than a system of gardening and provides refreshing and controversial perspectives on a range of environmental and social issues, drawing a correlation between every aspect of how we organize our lives, communities and landscapes and our ability to creatively adapt to the ecological realities that shape human future. Our last brand new copy. Retails at $30.
Softcover, black & white illustrations (2 lbs) sold
EROS AND MAGIC IN THE RENAISSANCE
by Ioan P. Couliano
Outstanding and fascinating book by this Romanian professor who was assassinated at the University of Chicago Divinity School in 1991!
"Renaissance magic, according to Ioan Couliano, was a scientifically plausible attempt to manipulate individuals and groups based on a knowledge of motivations, particularly erotic motivations. Its key principle was that everyone (and in a sense everything) could be influenced by appeal to sexual desire. In addition, the magician relied on a profound knowledge of the art of memory to manipulate the imaginations of his subjects. In these respects, Couliano suggests, magic is the precursor of the modern psychological and sociological sciences, and the magician is the distant ancestor of the psychoanalyst and the advertising and publicity agent.
In the course of his study, Couliano examines in detail the ideas of such writers as Giordano Bruno, Marsilio Ficino, and Pico della Mirandola and illuminates many aspects of Renaissance culture, including heresy, medicine, astrology, alchemy, courtly love, the influence of classical mythology, and even the role of fashion in clothing.
Just as science gives the present age its ruling myth, so magic gave a ruling myth to the Renaissance. Because magic relied upon the use of images, and images were repressed and banned in the Reformation and subsequent history, magic was replaced by exact science and modern technology and eventually forgotten. Couliano's remarkable scholarship helps us to recover much of its original significance."
Foreword by Mircea Eliade. Used book in good condition, retails at $32.
Softcover, b&w illustrations, 264 pages $16 (1 lb)
COPAL BLANCO Bursera sp.
These light colored dried chunks of this wildcrafted sap from central Mexico are one of the most highly valued Copals. This "Food of the Gods" can be burned as a delightfully sweet incense, for purification or as a holy offering. Strongly antiseptic. This is the highest quality Copal Blanco, not to be confused with the "White Copal" from Indonesia.
1/4 lb Copal Blanco pieces $18
1/2 lb Copal Blanco pieces $30
CHUSPAS
Traditional woven wool bags for coca leaf. Made on backstrap looms by friends in Cusco, Peru, with color-fast dyes from local vegetal and insect substances. Quechua weavings contain a mythical encoding, a nonverbal visual expression of information through the use of an elaborate lexicon of symbols. Through traditional weavings the meaningful relationships and worldview of Andean culture have been maintained from generation to generation.
#1 – Brown chuspas 6″ x 7″ (not including tassels) shoulder strap 22″ (1/2 lb) – $36
#2 – Red chuspas 6″ x 7″ (not including tassels) shoulder strap 24″ (1/2 lb) – $36
GOLD ROOT Heliopsis longipes
Composite endemic to the mountains of central Mexico up to 8,000'. The fleshy lateral roots produce a very intense tingling sensation in the lips and mouth when chewed, much stronger than Echinacea or Spilanthes which have similar properties. Traditionally used for toothache (very effective!) and oral health. Rich in alkamides with impressive analgesic, antiinflammatory, antibacterial, antifungal, insecticidal and immune boosting effects. Demand for its insecticidal activity nearly lead to its extinction during World War 2. The pleasant tingling effect from the chewed root can be transferred to other areas of the body and has been used as topical anesthetic and for interesting erotic purposes. Normally only available in very tiny amounts, here is your chance to stock up!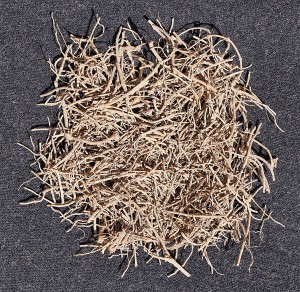 1 oz Wildcrafted Mexican Gold Root -$48
1/4 lb Wildcrafted Mexican Gold Root – $138
Shipping for Books & Products
To determine shipping costs, add up the number of lbs in parentheses ( ) that is listed with each item
Priority Mail- add $7.50 for the first lb, $2.25 for each additional lb
When ordered with plants just add $2.25 for each lb
Books only sent Media Mail – add $4 for the first lb, $0.75 for each additional lb
Please email us for international shipping costs; benkamm@monitor.net
---